Arbitration
Understanding the current and future role of the ICC Court President: An interview with Alexis Mourre
After announcing his decision to step down in June 2021, International Chamber of Commerce's (ICC) International Court of Arbitration President Alexis Mourre takes a moment to look back on his presidency, explaining why the timing is right and how he envisages the future for his successor.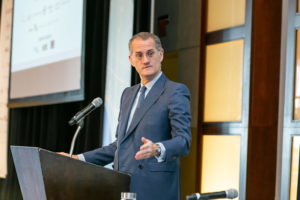 Having led the world's leading arbitral institution since 2015, ICC Court President Mr Mourre answers eight questions to offer an inside glimpse of his role and what it will mean in the years to come.
1. Why did you decide to step down as ICC Court President?
I have immensely enjoyed being the President of the ICC Court for the past five years. It is a great honour and also a heavy responsibility. Apart from my personal desire to return fully to private practice, and perhaps to do more teaching than my work for ICC has allowed me, I would mention two reasons. The first is that in 2018, I introduced a rule stating that no ICC Court member could serve for more than two consecutive terms. It would have been odd not to apply that rule to myself. In June next year, I will have been an ICC Court member for 12 years, first as Vice-President and then as President — which is more than enough. Second, one of the key roles of the president is to impulse new ideas and projects to ensure that the institution is always at the forefront of innovation. After two terms, that propulsive thrust naturally wanes and there is the risk of more conservatism, if not of a certain complacency. So, the time has come for a change.
2. Can you tell us about the selection process that has been put in place for your succession?
A unique and key feature of our governance rules is that the ICC Court President is selected by a committee formed by recognised arbitration practitioners who are completely independent from ICC. It will be an entirely transparent and open process, allowing the ICC World Council to elect the best candidate to lead the ICC Court through the challenges that it will face in the years to come. ICC is a cornerstone of international arbitration as a global system of justice, and the new president will have the responsibility of ensuring that it remains the best institution in terms of its integrity, transparency and for the quality of its services. So, the role of the selection committee will be especially important and I am very grateful to all the busy practitioners who have accepted to devote some of their precious time to that process.
3. How has the environment in which ICC operates evolved since you became President of the ICC Court?
In the past five years, the environment in which the ICC Court has evolved has dramatically changed. Today it is a more diverse and competitive environment, as a result of the growing number of arbitral institutions —each actively promoting themselves and offering a wide range of services to a business community that is more sensitive than ever to the time and cost efficiency of the arbitral process. In that very demanding context, the ICC Court has significantly increased its caseload. We are also seeing a steady growth of the average value in dispute in ICC Arbitrations, which is now on top of US$140 million per case. As shown by the Queen Mary University of London and White and Case Survey, ICC remains, by far, the most preferred institution worldwide — in particular for large, complex, multi-party and multi-contracts cases. We have also seen a continuous increase in cases involving States and State entities.
4. During your leadership, what have some of the challenges been for the ICC Court?
First and foremost, we need to maintain our scrutiny process at the highest level of quality. This is the signature service of the ICC Court and requires constant attention from our Secretariat and ICC Court members, who attend more than 150 sessions every year. We also need to continue adapting and improving our services constantly.
In the past five years, we have worked along five lines of policy. The first has been to increase the time and cost efficiency of our arbitrations. This has led, in particular, to the introduction of our expedited rules as well as to the creation of time limits for the submission of draft awards to the ICC Court, with financial sanctions in case of unjustified delays. I am extremely satisfied with our expedited rules, which are proving to work very efficiently, with high quality awards made within six months from the case management conference. We have also introduced rules on dispositive motions, and significantly improved and expanded the note to parties and arbitral tribunals. Second, we have made our procedures more transparent, by providing reasons for the our institution's decisions, publishing the composition of our tribunals and now embarking on an ambitious programme of publication of awards. Third, we have established high ethical standards for the conduct of arbitrators and counsel, by adopting rules on the disclosure of conflicts and guidance on the parties' duty to arbitrate in good faith. Fourth, we have made the institution more diverse. The ICC Court and its Bureau now have complete gender parity — and for the first time in our history, we have established a rule preventing Court members serving for more than two terms. This is an important governance rule that has allowed a new generation to access our institution. Finally, we have aimed at strengthening the truly global nature of the ICC Court by expanding our network — which has resulted in the opening of two new case management teams in Sao Paolo and Singapore and two representation offices in Shanghai and Abu Dhabi. We hope that the Abu Dhabi office will soon become a full-fledged case management team. Another important step in expanding the reach of our institution has been the creation of the Belt and Road Commission and Africa Commission.
5. Is the ICC Court working on a new set of amendments to its Rules. If so, why?
Yes, the proposed changes will soon be discussed by the ICC Commission on Arbitration and ADR for the second time, and should be approved by the ICC Executive Board at the end of the year to enter into force in January 2021. While the changes will be limited, they will significantly improve the quality and efficiency of ICC Arbitrations and of the work of the ICC Court. In particular, we will increase the threshold for the opt-out application of our expedited rules to US$4 million. There will also be new provisions on third-party funding and allowing tribunals to prevent the introduction of a new counsel having a conflict of interest. We are also developing new rules to enhance the level of our investor-State arbitrations to make the work of the ICC Court more flexible. The new Rules will come with a revised version of our guidance note.
6. Having seen the impact of COVID-19 social distancing measures on ongoing arbitration proceedings, will there be a focus on improving and building online dispute resolution (ODR) into the fabric of international arbitration?
The ICC Arbitration Rules offer already the means to parties and tribunals to conduct a fully paperless arbitration, if they so choose. However, we need to do more. We are currently studying the idea of offering a completely interactive common platform that could be shared by tribunals and parties. Parties and arbitrators should also be allowed to consult the status of their case, including its finances, remotely. I hope that this will come into fruition soon.
7. Do you foresee interest in remote arbitration continuing in the aftermath of COVID-19?
We are now facing a situation of emergency — requiring institutions, arbitrators and parties to get together in order to mitigate the delays that the postponement of hearings would otherwise generate. In order to assist parties and arbitrators, the ICC Court has recently released a guidance note encouraging parties and arbitrators to organise hearings by video-conference and providing recommendations on how to avoid the technical difficulties of a remote examination of witnesses. I, myself, have recently organised remote evidentiary hearings in two of my cases and it worked very well.
Moving forward, I think that based on that experience, arbitrators and parties will be more amenable than in the past to organise hearings in such a way. The potential efficiency gains will be significant. We should also all be mindful of the environmental impact of traditional physical hearings, with all the travelling and printing that goes with them. So, yes, it is to be hoped that more remote hearings will be held post-COVID. This being said, in deciding whether to organise a hearing physically or by video-conference, arbitrators will need to consider carefully all relevant circumstances. In many instances, the physical presence of a witness or an expert will remain a significant advantage, in particular in cross-examination.
8. The world is changing. How do you think the next ICC Court President will handle bias and what challenges will he or she face?
He or she will chair an institution that is inherently global. The new president will therefore need to lead the institution in such a way as to ensure that it is not perceived as an emanation of one culture as opposed to others. We have made a lot of progress in that direction, and I hope that future ICC Court policies continue on that path. The new president will also need to maintain the ICC Court as a highly innovative institution. As I said before, online arbitration will be a key question in the immediate future. Controlling the time and costs in cases conducted under our rules, in particular the expedited rules, will also be of paramount importance. There will also be the need for important investments, in particular to ensure proper remuneration of our staff and the increase of our business development efforts. I know that ICC is acutely aware of these needs. The new president will need to work hand in hand with the Secretary General of the ICC Court and ICC leadership to make sure that future projects are adequately calibrated, planned and implemented.
The ICC Court is currently seeking candidates for its next president. The selection process timeline foresees applications being made over the next few months, with pre-selected candidates to be interviewed by the end of October. A recommendation to the ICC Executive Board will be made on 1 July 2021. If you are interested in applying for the position, please see the opportunity description.