World Chambers Federation
Here are 10 things you helped us achieve at the 11th World Chambers Congress
The 11th World Chambers Congress might be over, but there are still opportunities for chambers and business leaders to take action.
The Congress took place in Rio de Janeiro from 12-14 June bringing together over 1,000 chamber and business leaders from every region of the world.
Here are 10 things participants helped us to achieve during the event and how chamber and business leaders can continue to take action:
1). Join the Chamber Climate Coalition for real #climateaction
ICC Secretary General John W.H. Denton AO opened the 11th World Chambers Congress with a firm commitment to make climate change everyone's business and the launch of the Chambers Climate Coalition, a ground-breaking initiative rallying chambers of commerce to commit to climate action within their networks.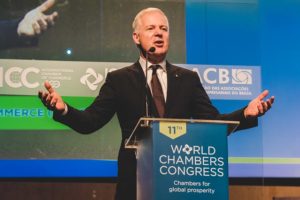 The landmark pledge commits chambers of commerce to take a more proactive role in protecting our planet by mitigating human-induced causes of climate change. In particular, the Coalition calls upon business and chamber leaders to limit the global average temperate rise to 1.5°C, decrease the greenhouse footprint from chamber activities without delay, and support the goal of achieving net-zero emissions globally by 2050.
Already, the Coalition has received signatures from over 450 chambers of commerce around the world, including Brazil, Chile, China, India, South Africa, Nigeria and the United States. The Coalition has also received praise from United Nations Special Envoy for the 2019 Climate Action Summit, Luis Alfonso de Alba, who spoke at the Congress about the urgency of climate change and the path to implementing the Sustainable Development Goals (SDGs).
Sign up to the Chambers Climate Coalition today to demonstrate the commitment of your chamber to taking climate action.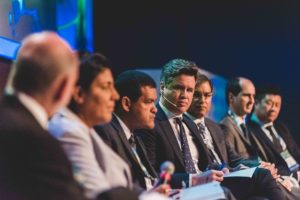 2). Help me trade – with the ITC-WTO-UNCTAD Global Trade Helpdesk
Micro-, small-, and medium-sized enterprises (MSMEs) represent the majority of companies around the world. Oftentimes, due to their size, MSMEs lack resources and access to vital trade-related information that can prevent them from accessing new markets.
At the World Chambers Congress, the International Trade Centre (ITC), introduced the Global Trade Helpdesk, a market intelligence platform that delivers trade and business information directly to MSMEs. The Global Trade Helpdesk combines existing resources from ITC, the United Nations Convention on Trade and Development (UNCTAD), and the World Trade Organization, into one comprehensive and accessible online platform.
During a workshop session on "SMEs to the world: chambers as facilitators and partners," Mathieu Lordian, Market Analyst, ITC, presented a beta version of the platform. In his presentation, Mr Lordian walked through the portal's four modules: explore markets, identify partners, assess requirements, and navigate procedures. These unique categories are essential in assisting MSMEs in identifying trade opportunities and making informed business decisions.
Try the prototype now to see how the Global Trade Helpdesk can benefit your business.
3). Blockchain technology made accessible thanks to the ICC-Perlin partnership
The potential benefits of blockchain for chambers were highlighted throughout the Congress, as well as ICC's new partnership with Perlin, a Singapore-based distributed ledger technology company. In particular, Dorjee Sun, CEO, Perlin Networks, participated in several sessions and workshops identifying blockchain applications that could support chambers and businesses in enhancing efficiency, security, transparency and alignment with environmental, social and governance requirements.
As part of the ICC and Perlin partnership, ICC will link Perlin to its network of over 45 million enterprises globally and offer early access to Perlin's blockchain technology. Whereas large multinational companies around the world have the opportunity to experiment with blockchain, small- and medium-sized enterprises (SMEs) have largely been left behind. By collaborating with Perlin, ICC will provide its strong SME membership base with the opportunity to explore all that blockchain has to offer.
With strong support from the Singapore Government, ICC and Perlin have opened the Centre of Future Trade (CoFT) to serve as an open industry platform for the development and deployment of blockchain solutions. Based in Singapore, the CoFT will bring together key industry players, world-class researchers and policymakers to help establish industry standards that enable the digitalisation of trade.
During the Congress, Mr Sun reiterated the potential benefits of blockchain technology to both business and chambers leaders. "ICC and chambers play a key central role in supporting and driving local and global innovation as trusted supra-national intermediaries," said Mr Sun. "They are more agile, dynamic and effective for coordinating collaboration than any individual private consortium or government agency." Already, ICC and Perlin are considering the benefits of incorporating blockchain technology into the future issuance of chamber services, such as the Incoterms® rules.
Learn more about Perlin's Wavelet ledger and how you can incorporate blockchain into your chamber structure.
4). Protect the oceans through rethink and redesign – with the ICC-Parley for the Oceans partnership
ICC and Parley for the Oceans announced a long-term partnership that will educate and empower the private sector to preserve our oceans.
With Parley, ICC will rally businesses to protect and conserve the oceans through the Parley collaboration network and the implementation of the Parley AIR strategy (Avoid, Intercept, Redesign).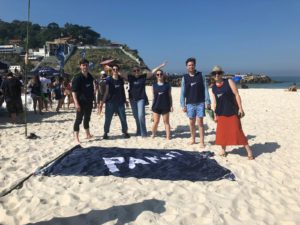 To lead by example and inspire its members, ICC committed to phase out single-use disposable plastic items throughout all facilities and replace virgin plastic with sustainable, eco-innovative alternatives by the end of 2020. The partnership will also extend to other crisis areas: ending marine plastic pollution, reducing human-caused factors of climate change and combatting overfishing, with the objective of accelerating and enabling sustainable business practices.
Mr Denton said: "Through our partnership with Parley, ICC will help ensure that our oceans are safeguarded for the health of the global ecosystem and the livelihoods of the millions of businesses that rely on the open waters."
Learn how your chamber can contribute to ICC and Parley's mission.
Discover Parley's other projects in more detail.
5). The ATA Carnet goes digital
An ATA Carnet is an international customs document that permits the duty-free and tax-free temporary export and import of goods for up to one year. The ATA Carnet system demonstrates how collaboration between business and customs agencies can help facilitate international trade. The ATA Carnet system is currently used by 78 economies, with Qatar becoming the most recent country to join the global chain in 2018.
During a workshop session on "ATA Carnet: boosting international business with your passport for goods," Cyrille Bernard, ICC's Information System Architect and Mercury II project manager, and Christophe Coulie, Chair of the ICC World ATA Carnet Council's Mercury II project team, delivered a presentation on ICC's new global ATA Carnet lifecycle management system which will help facilitate transactions, increase data security, reduce exceptions and strengthen delivery to business.
The newly developed digital ATA Carnet system has its roots in the Mercury II pilot project launched by ICC in April 2018. Under Project Mercury II, ICC with the support of more than 15 countries, the European Union, and the World Customs Organization (WCO), will soon start a six-month pilot with pre-selected countries to test the digital processing of ATA Carnets. In April, Mr Denton and Stephen Quest, Director General, TAXUD, European Commission, released a video emphasising the importance of Carnet digitisation.
Learn more about how your chamber or customs agency can look forward to using the new ATA Carnet system in the upcoming future.
6). Chambers of Commmerce fight corruption – a "how-to" guide
Corruption hinders the social and economic gains of individuals participating in open marketplaces. At the World Chambers Congress, chamber and business leaders worked together to exchange ideas aimed at fighting corruption.
Carlo Verona, Vice-President of the International Chamber of Commerce (ICC) Brazil Committee on Anti-Corruption, moderated a panel of international legal experts and business leaders to discuss innovative ideas for building free, fair and transparent markets for all. Most notably, Pedro Parente, Global CEO of BRF and former Chairman of Petrobras, explained the importance of protecting individuals who report corrupt business practices. Mr Parente's rehabilitation of Petrobras, after years of corruption and enforced price controls, in a government-backed scandal known as "Opération Lava Jato," served as a prominent example of business-led anti-corruption action.
Later, a dedicated Congress workshop on anti-corruption saw the launch of new Principles on Combating Corruption for Business Associations and Chambers of Commerce. Business associations and chambers of commerce, acting individually or in coalitions, can play an essential role in promoting integrity, good governance, and a level playing field across local, national, and international markets where their members operate.
Join chambers and businesses by taking action against corruption through the use of these principles.
7). Chambers help migrants integrate into local workforce
Migrants face a steep uphill climb in today's global economy. Migrants can face difficulties to become fully integrated into the global economy due to invalid work documentation, travel restrictions and language barriers. In some cases, migrants have been targeted as national security or economic threats to their host countries, which has led to the passage of discriminatory laws and policies that reduce their economic participation.
At the Congress, ICC's World Chambers Federation published a Global Mobility toolkit to improve the economic integration of migrants into the international trade system. Chambers of commerce support migrants with professional training, facilitating their employment in the private sector. The Global Mobility toolkit promotes sustained solutions for the private sector to enable the economic empowerment and integration of migrants around the world.
Download the toolkit and learn how your chamber can assist migrants.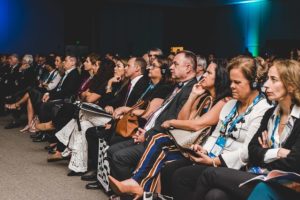 8). ICC Academy
Globalisation and new forms of technology are transforming the world's approach to education. With new trends emerging each day, business must ensure that their employees are adequately prepared to adapt their skills and knowledge accordingly.
Daniel Kok, Managing Director of the ICC Academy, moderated a Congress session on rethinking education for the next generation of workers. In a wide-ranging discussion panellists spoke about the influence of technology on education and the importance of lifelong learning.
The ICC Academy is keen on partnering with chambers and business leaders to meet the educational needs of today's global trade system. The ICC Academy offers a wide range of education opportunities for chambers, businesses and working professionals, including online certification courses on trade finance, imports and exports, and new forms of regulation. Later this summer, the ICC Academy will launch the Incoterms® 2020 Certificate (INCO) to adequately prepare practitioners for the upcoming release of Incoterms® 2020.
Explore all of the ICC Academy's pragmatic certification programmes.
9). Consultation on MSMEs
The 11th World Chambers Congress hosted two side-events on 11th June to discuss the importance of micro, small and medium enterprises (MSMEs). In collaboration with the World Trade Organization (WTO), the ICC World Chambers Federation (WCF) hosted a consultation meeting entitled, "MSMEs to the world – Enabling Success in Global Markets," gathering business and chambers leaders to discuss strategies for equipping MSMEs with tools to expand their operations globally. The meeting was led by the Permanent Representative of Uruguay to the WTO, Ambassador José Luis Cancela.
In addition, the International Trade Centre (ITC) convened an executive strategy design workshop to explore how to shape a supporting trade environment for MSMEs in the 21st century.
10). New additions to the International Certificate of Origin Accreditation Chain
The Congress saw several exciting outcomes related to the International Certificate of Origin (CO) guidelines. Most notably, the Canadian Chamber of Commerce and Torino Chamber of Commerce (Italy) became the latest members of the International Certificate of Origin (CO) Accreditation Chain. By joining the International CO Accreditation Chain, chambers commit to issue CO's with the highest level of quality through the implementation of transparent and accountable verification procedures.
Following a call to action issued by Peter Bishop, Chair of the Certificate of Origin Council, 12 chambers committed to buying copies of the CO Guidelines for distribution to least developing countries around the world. As part of the arrangement, the 12 participating chambers will purchase three copies of the CO guidelines each and send them to chambers operating within least developing countries. This initiative will help extend the CO Guidelines, which are the most commonly recognised set of international standards on certificates of origin.
Read the full version of the revised CO Guidelines.
Learn more about the CO Chain and CO Accreditation.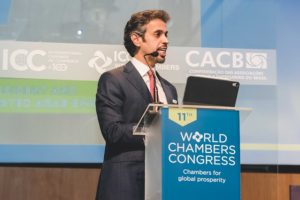 Get Ready for Dubai
After a successful three days in Rio, chamber and business leaders are now looking ahead to the 12th World Chambers Congress, which will take place 23-25 February 2021, in Dubai. Under the theme, "Chambers 4.0 Generation Next," the next edition of the Congress will analyse how the future of work will change as a result of digitalisation, artificial intelligence and the Internet of Things (IoT).
Stay tuned for more information on the 12th World Chambers Congress on Twitter @worldchambers and on Linkedin @ICC World Chambers Federation.