Last call for submissions to the World Chambers Competition
With a 4 May deadline rapidly approaching, there are only a few days left to participate in the prestigious World Chambers Competition. The unique award programme is designed to acknowledge and reward chambers of commerce for their innovative efforts to strengthen their respective communities.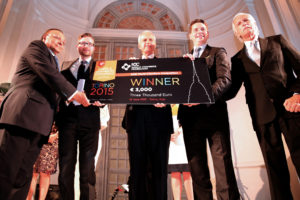 Organised by the ICC World Chambers Federation (WCF), the Competition is open to all chambers of commerce throughout the world. Those with standout projects or initiatives—either past or recent—that have impacted their community are encouraged to join.
Chair of the World Chamber Competition Rona Yircali said: "This awards programme goes beyond competition…. [Chambers] start with an idea. They develop this idea into a project, which then gets results and benefits to their members, as well as the community. We are looking for chambers to bring us these fresh ideas."
As chamber work is often varied, the four chosen Competition categories are adapted to reflect the current trends and developments, in addition to promoting best practices.
2017 categories are:
Best Corporate Social Responsibility (CSR) project;
Best job creation and business development project;
Best education and training project and;
Best unconventional project.
For each category, four chambers will be selected. Each competing chamber will then be invited to present their projects live in front of the international chamber network at 10th World Chambers Congress in September, in Sydney. This makes for an exceptional opportunity to not only inspire and educate fellow chambers about the work they are involved in but also the chance to gain global recognition and visibility.
Past recipient of the "Best unconventional project" award at the 2015 Competition in Torino, Italy was the Calgary Chamber of Commerce. Commenting on the chamber's past win, Adam Legge, President and CEO of the Calgary Chamber of Commerce, said: "Our project was the result of our organisation's response to major flooding to our community in 2013 and how we helped businesses get back on their feet… [Since winning] we have been working with ICC WCF, and I am proud to say that in early 2017, the ICC WCF General Council unanimously supported the adoption of our programme to become a global standard for how chambers can support their communities."
To select the Competition finalists, and ultimately the winners, an international and diverse group is appointed to evaluate the projects. This panel of judges is made up of ICC WCF leadership, as well as representatives from chambers of commerce and other recognised global organisations.
Chambers interested in taking part in the Competition should review the official guidelines to ensure their project is eligible. To learn more or to submit a project, please visit the World Chambers Competition page.