World Chambers Federation
ICC WCF launches Certificate of Origin verification website
ICC World Chambers Federation (WCF) has launched the Certificate of Origin (CO) verification website to reinforce the authenticity of the CO verification process conducted by customs authorities and chambers.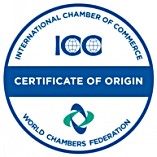 Introduced in response to requests from ICC WCF International CO Accreditation Chain members, the initiative aims to offer customs authorities the unique opportunity to verify the authenticity of COs issued by participating chambers.
Millions of COs are issued every year by chambers of commerce, facilitating trade worldwide. With the strong support of members, the ICC WCF International Certificates of Origin Guidelines – establishing international best practice for issuance procedures – have been implemented by chambers around the world. In September 2012, ICC WCF created its International Certificate of Origin Accreditation Chain, based on the international guidelines, to which chambers can adhere on a voluntary basis. By joining the Accreditation Chain, chambers agree to adhere to these internationally applicable and widely accepted standards and are entitled to use the recognizable international quality label which guarantees that chambers follow transparent and responsible procedures in issuing COs.
In January 2013, an official note was sent to all World Customs Organization Customs administrations, notifying them of the implementation of the CO verification website, initiated as part of the framework of International CO Accreditation Chain. The secured online verification website will reinforce the mutual trust between customs authorities and chambers and give Customs the assurance that COs are issued according to the highest applicable standards.
Developed by ICC WCF, the website will enable Customs authorities and chambers to authenticate a CO by entering its unique CO number along with the chamber's accreditation number. This will give immediate access to the CO basic references, date of issuance and name of the applying company. Contact information of the issuing chamber will be available to Customs and participating chambers to alert them regarding any concerns. Immediate notification will be given if a CO number is or not issued by a participating chamber.
To read the official note sent to all customs administrations and to learn more about the CO verification website, visit the International CO Chain.
Get a copy of the ICC WCF International Certificate of Origin Guidelines.