World Chambers Federation
World Chambers Federation unveils new leadership
ICC World Chambers Federation's (WCF) new leadership team took office this week, with a three-year mandate to strengthen the global network of chambers and to reinforce the role chambers play in their respective communities.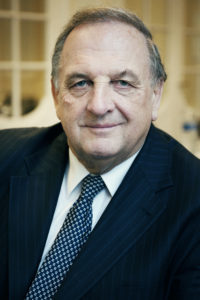 Peter Mihok, President of Slovakia's Chamber of Commerce and Industry, was elected the new Chair of WCF, the body which unites and represents the global network of 12,000 chambers of commerce. Hamad Buamim, Director General of the Dubai Chamber of Commerce was elected Deputy Chair.
The new Chair and Deputy bring a wealth of experience to their positions after having already served WCF in various roles.
Mr Mihok has served as Vice-Chair since 2002 and as Deputy Chair since 2010. He was previously Vice President of Eurochambres, a member of the Economic Council of the Government of the Slovak Republic and an advisor to the country's president. He is also a board member for Heineken Slovensko, Vienna Insurance Group and other corporations.
Mr Buamim also brings vast knowledge and experience to his role as Deputy Chair, having served as a WCF Vice-Chair.
In addition to his position, Mr Buamim is involved in a number of Dubai's leading private organizations as head of the Dubai Chamber of Commerce and Industry. He is Chairman of National General Insurance as well as of Emirates NBD Capital and Emirates Financial Services. After starting his career as an engineer he has worked in various roles in the banking sector.
In further WCF leadership changes, Rona Yircali, whose term as WCF Chair ended at the end of 2012, replaces Avijit Mazumdar as Honorary Chair.
As part of WCF's regional actions, Mr Mihok has appointed six vice-chairs. Olive Kigongo, President of the Uganda Chamber of Commerce and Industry, becomes the second woman in the past decade to serve on the vice-chairmanship. Promoted from within the WCF General Council Ambrosio Bertolotti, Bark-Jae Shin and Jean-Claude Karpeles have also been appointed vice-chairs. Mick Fleming and Mahendra Sanghi will continue to serve as vice-chairs after having their roles renewed for additional three-year terms.
Lorenzo Ysasi, WCF Vice-Chair for the past three years, and Chair of the Organizing Committee for the 7th World Chambers Congress has been promoted to the Global Issues Groups where he will be the WCF special representative for the ICC G20 Advisory Group. Mr Ysasi will also serve as Deputy Chair of the World Chambers Network (WCN).
Established in December 1950 WCF is the global body fostering and facilitating collaboration and cooperation between chamber leaders and their organizations throughout the world. WCF helps chambers to improve the effectiveness and extend the range of the services that they provide to their members.
For more information visit the World Chambers Federation
Learn more about the upcoming ICC WCF 8th World Chambers Congress
Find out more about the ICC G20 Advisory Group