ATA Carnet
World Chambers Federation and CACCI unite to promote trade facilitation in Asia
The International Chamber of Commerce (ICC) – through its World Chambers Federation (WCF) – and the Confederation of Asia-Pacific Chambers of Commerce and Industry (CACCI) have organized a workshop to speed up Nepal's access to the advantages and benefits of the ATA Carnet System.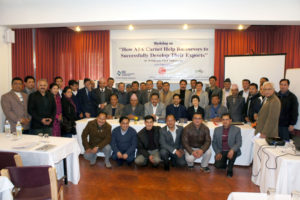 The workshop, hosted by the Federation of Nepalese Chambers of Commerce and Industry and conducted by ICC Asia Director Lee Ju Song, is the first of a series of joint ICC-CACCI events aiming to spread trade facilitation throughout Asia.
The workshop covered the benefits of joining the ATA Carnet System for the temporary duty-free and tax-free import and export of goods. Attendees included senior customs and government officials, representatives from the Department of Finance, Commerce, Trade and Industry, trade promotion agencies, chamber staff and members, and freight forwarders.
Welcoming the initiative, Ms Lee said: "This was a major step towards the integration of all Asian economies in global trade, using the facilities offered by ATA Carnets to strengthen trade links between Asian companies and their foreign counterparts."
"The early implementation of the system in Nepal will provide much-needed encouragement to other South Asian Association for Regional Cooperation members to rapidly ratify the Istanbul Convention," Ms Lee added.
The second in the series of workshops, taking place in India in March, will serve to convince Indian customs to expand the scope of application of the ATA System to commercial samples and professional equipment.
The ATA Carnet, the so-called passport for goods, is an international customs document that facilitates the temporary admission of goods into other countries without the need for normal customs procedures.
It is a public-private partnership success story, being jointly administered by the Brussels-based World Customs Organization – the depository of the international conventions on the temporary admission of goods – and ICC, which is the administrator of the international ATA guarantee chain.
More than 175,000 ATA Carnets are issued yearly for thousands of customs transactions worth over US$25 billion. Goods covered include professional equipment, commercial samples and material for trade fairs and exhibitions. Some examples of note include: a prototype solar car, World Cup yachts, Giorgio Armani apparel, McLaren Grand Prix cars, Munich Symphony Orchestra instruments, Australian Olympic horses, Harley Davidson motorcycles and equipment for the Bolshoi Ballet, Cirque du Soleil, BBC and CNN.
For more information visit the ATA Carnet System