The Internet Governance Forum takes place this week in Paris. Here's why it matters.
The Internet Governance Forum (IGF) is a global dialogue that brings together a wide range of stakeholders to exchange information and discuss how to make sure the Internet and its related technologies work for everyone.
Sometimes described as the world's biggest digital policy incubator, the IGF takes place under the auspices of the United Nations (UN) and is hosted this year by the French Government, taking place at the headquarters of the UN Educational, Scientific and Cultural Organization (UNESCO) from 12-14 November 2018.
The theme for this year's IGF is "The Internet of Trust" and comes at a time when the impact of Internet and communication technologies (ICTs) has increasingly permeated public debates, with governments proposing varying forms and degrees of actions in response.
However, while many public discussions on Internet governance focus on the potential challenges of ICTs, this year's IGF will also serve to highlight the immense opportunities that new technologies offer for economic growth and sustainable development. The multi-stakeholder format of the IGF is increasingly important so that policy responses are evidence-based and future-orientated.
"We need an authentic discussion on the impact of technology on society but our approach must be positive and solutions-oriented," said ICC Secretary General John W.H. Denton AO. "Rather than just mitigating potential risks, we need to ask how we can ensure technology—from AI to big data—is a genuine force for good in driving global development."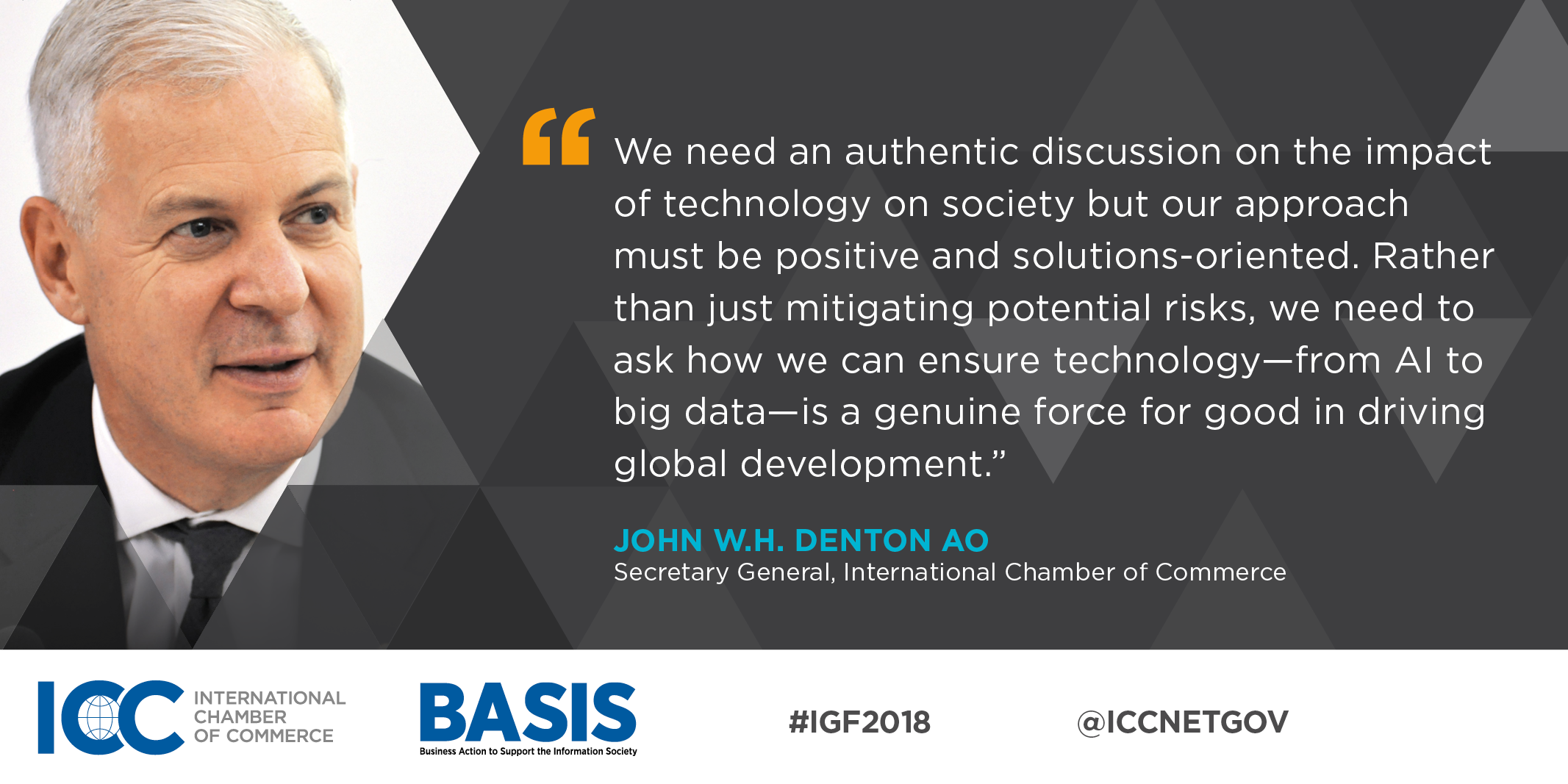 Spotlight on artificial intelligence
As the ICC paper ICC paper ICT, Policy and Sustainable Economic Development shows, ICTs underpin efforts to realise all 17 of the UN Sustainable Development Goals (SDGs). An enabling policy environment, though, is needed to allowing digital technologies to fulfil their positive potential. Effective policymaking around the world requires better understanding of how ICTs work, including knowledge of the ICT ecosystem and the roles and responsibilities of relevant stakeholders, to facilitate innovation and growth.
This is especially true of some of the most cutting-edge technologies, such as artificial intelligence (AI). A recent McKinsey analysis found that AI has the potential to generate additional global economy activity of around US$13 trillion by 2030—a 16% rise from today. This would set the impact of AI alongside transformative general purpose technologies such as steam and electricity.
AI applications could prove just as decisive in bringing countries closer to accomplishing the SDGs. On the second day of the IGF, ICC and ICC BASIS will convene a high-level panel of public and private sector stakeholders to discuss how AI can reinvent the relationship between humans and technology to help build a more inclusive society.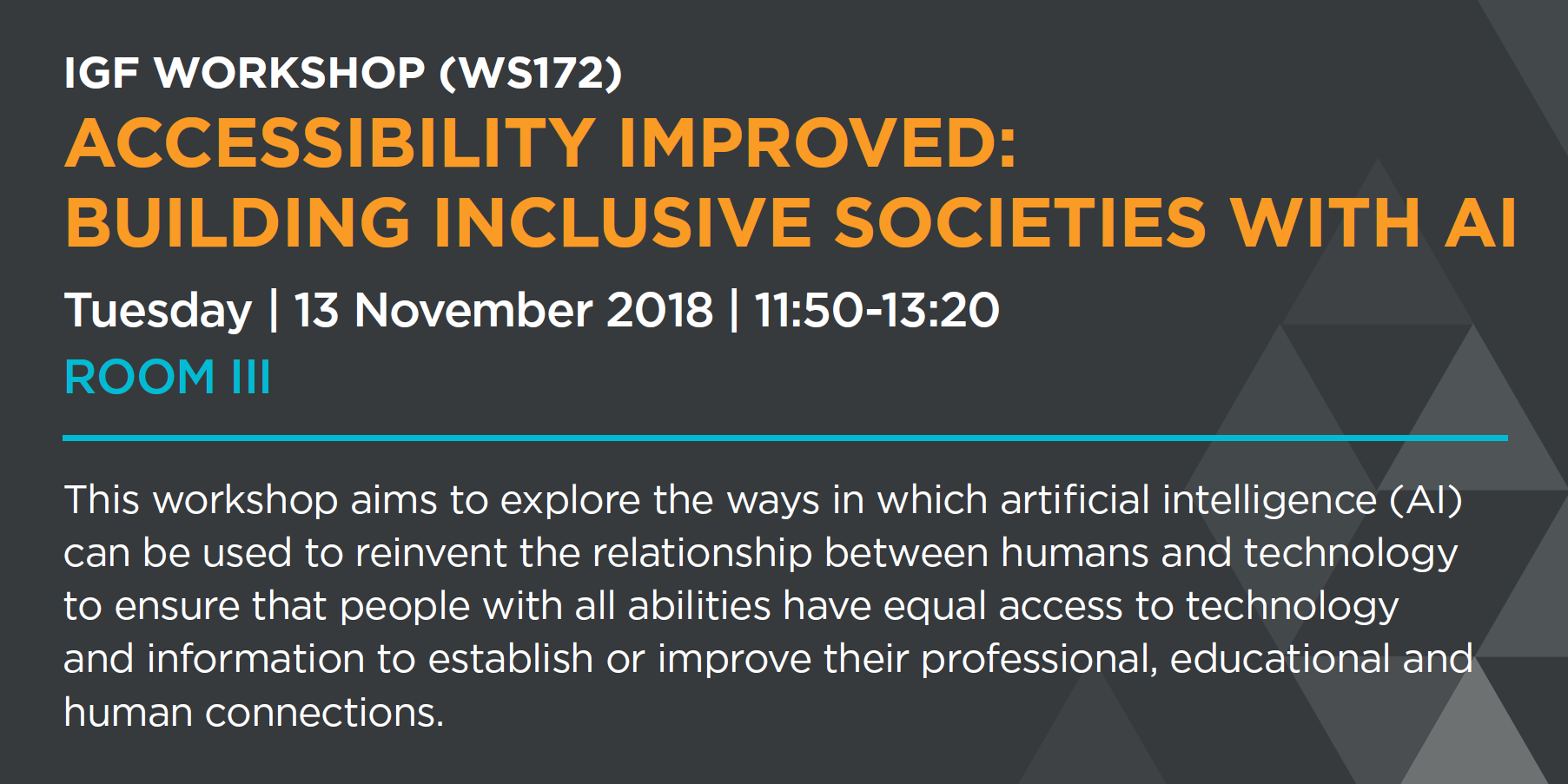 To find out more about ICC's presence at IGF this year, consult the IGF page on our website and follow us on Twitter at @ICCnetgov.