Climate change
ICC calls for more predictability at UN climate talks
With a strong presence at the 19th United Nations Climate Change Conference in Warsaw this month, global business is calling for a roadmap to move forward on a new global climate deal.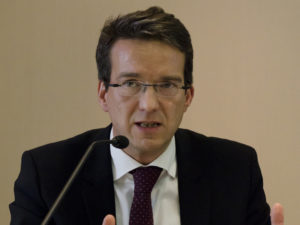 The climate talks, taking place from 11-22 November will see governments from around the world converge for negotiations that seek agreement on a number of significant unresolved issues to conclude an equitable and effective UN global climate agreement in 2015.
Talks in Warsaw have the potential to lead to true collaboration on climate action, and recognizing the importance for business and governments to work together to tackle global challenges associated with climate change in a sustainable manner, ICC stands ready for constructive engagement and dialogue in Warsaw and beyond.
"It is urgent that governments find sufficient political will to resolve the highly complex, but not insurmountable issues at stake to create a new global climate agreement," said International Chamber of Commerce (ICC) Secretary General Jean-Guy Carrier.
In its unique role as the world business organization, ICC forges closer cooperation between governments and business and strives to ensure that governments create an enabling framework for business to continue shaping and implementing practical climate change solutions. It will be important that governments identify the elements of the 2015 agreement in Warsaw to give more clarity and predictability for business to make investments and decisions that could support accelerated and scaled up global action on climate change.
"Business has continued to provide climate-resilient products and services that are economic success cases. Global markets have witnessed growth in portfolios that include, amongst others, renewables, new mobility solutions and energy efficient buildings," said Kersten-Karl Barth, Sustainability Director at Siemens AG, and Chair of the ICC Commission on Environment and Energy. "But more can and needs to be done. For example, despite the apparent business case for energy efficiency, a significant share of the potential to improve energy efficiency remains untapped, with global investments falling considerably short of levels needed."
ICC is a long-standing partner of the United Nations Framework Convention on Climate Change (UNFCCC) and participates as an observer in the Climate Investment Funds. In addition, ICC also works closely with senior government officials on cross-cutting environmental issues at the G20 and other intergovernmental forums.
ICC will host and engage in a range of events in Warsaw. Global business leaders and members of the ICC Commission on Environment and Energy will participate in the conference to present business views.
During the conference, ICC will present its latest publication ICC business perspective on climate change negotiations: Competitiveness – Opportunity – Partnership outlining key business priorities for the UNFCCC COP19 and towards the 2015 climate negotiations. The publication includes 22 best practice examples from companies around the world. Each case study demonstrates actions undertaken and solutions implemented to address climate impacts and to lower emissions of greenhouse gases through investment, research and the deployment of innovative technologies, processes, products and services.
ICC will also showcase the ICC Green Economy Roadmap – a guide for business, policy-makers and society, which sets out 10 conditions needed to drive growth and calls for innovation, collaboration and governance. The roadmap serves as both a tool for integrating sustainability into business strategies and government policies as well as a platform to share and scale-up best practices and initiate new activities.
Download ICC business perspective on climate change negotiations: Competitiveness – Opportunity – Partnership
Download Climate business actions – ICC best practice case studies
Download ICC Green Economy Roadmap