World Chambers Federation
ICC awards Syrian business leader for peace efforts
ICC has presented Abdul Rahman Attar, Chairman of ICC Syria, with the Merchants of Peace award for leading ICC Syria through significant challenges since its founding in 1988, as well as for his humanitarian role as President of the Syrian Arab Red Crescent (SARC).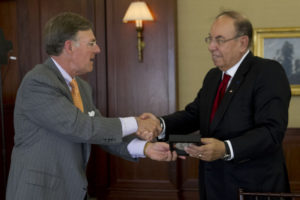 The award is granted to individuals who continue to draw inspiration from ICC's founders, known as the "Merchants of Peace", and whose dedication and hard work have assisted ICC in promoting world peace through world trade for more than 90 years. The Merchants of Peace Medal is a representation of a bust by the artist Auguste Rodin of the founding President of ICC, Etienne Clementel.
Mr Attar is a commendable model of a business leader who is also a committed humanitarian. At great personal risk, he continues to mobilize resources to save lives and provide support to people in Syria, which has been ravaged by violent internal conflict for more than two years.
Mr Attar is the President of Attar Group, a Syrian conglomerate of companies in sectors ranging from pharmaceuticals, to insurance and banking, to trade, telecommunications, agriculture and food processing. He has been President of ICC Syria since 1988 and President of SARC since 1998.
"I am deeply saddened by the fact that our country has been going through this devastating conflict," Mr Attar said. "At the same time, I am very honoured to receive this award from ICC and hope it will help to raise awareness about the Syrian business community's efforts to meet the needs of the Syrian people."
According to SARC, as many as 100,000 people have died and more than 4 million have been displaced since the conflict began in Syria in early 2011.
The recipients of the ICC Merchants of Peace Award are chosen by the ICC leadership. The nominations of candidates to be honoured by the Merchants of Peace Award are encouraged from the ICC global network of national committees, the World Chambers Federation, individual companies and the ICC Secretariat.