G20
Guatemala sets example at investment summit
The critical role that foreign direct investment (FDI) plays in fostering development, economic growth and job creation was underscored at the Guatemala Investment Summit last week.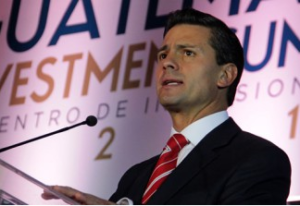 ICC took part in the high-level gathering which was opened by Guatemalan President Otto Perez Molina and featured special guest President of the United States of Mexico Enrique Peña Nieto, as well as keynote speaker former President of Chile Eduardo Frei.
Illustrating how many countries in the Latin American region are playing a critical role in driving global growth, the Summit – a joint initiative of the Guatemalan government and the Guatemalan Chamber of Industry that houses ICC Guatemala – matched more than 200 investors from 29 countries with projects in Guatemala spanning a wide range of industries.
Carlos Busquets, Deputy Director of ICC's Department of Policy and Business Practices, was a panellist in the session Investments as an Instrument for the Development of Small- and Medium-sized Enterprises (SMEs).
"By opening its economy to FDI, fostering an effective enabling framework for investment and respecting the rule of law, Guatemala serves as an example to other countries in the region and around the world on the policy measures needed to drive economic growth and job creation."
"It is particularly important to promote SMEs given that they are innovators and catalysts for growth via their participation in global supply chains," he said.
By providing essential trade facilitation products and services, ICC is instrumental in helping policymakers and global business leaders to develop a conductive environment to drive FDI. Such tools include ICC's Guidelines for International Investment, Anti-Trust Compliance Toolkit and widely used Incoterms® Rules.
Working with partners like the Guatemalan Chamber of Industry and others around the world, ICC is helping to build a global framework for open rules-based trade and investment that could provide a debt-free and much needed stimulus to world economic growth and development.
According to a recent study commissioned by the ICC Research Foundation, by simplifying customs procedures – through trade facilitation measures – alone, WTO member countries would deliver global job gains of 21 million. The Peterson Institute report, Payoff from the World Trade Agenda 2013, estimates that developing countries would gain more than 18 million of these jobs and developed countries would increase their workforce by three million.
ICC and the Qatar Chamber of Commerce and Industry in March 2012 launched the ICC Business World Trade Agenda in response to calls from WTO members and from G20 leaders for fresh approaches following a 12-year impasse in multilateral trade negotiations. Business recommendations from this event will be delivered to G20 leaders and WTO ministers ahead of the next G20 Summit in Saint Petersburg and the WTO Ministerial Conference in Bali later this year.
For more information visit the ICC G20 Advisory Group and the ICC Business World Trade Agenda.