Arbitration
Claudia Salomon becomes President of ICC Court
Claudia Salomon has begun her term as President of the ICC International Court of Arbitration following formal election in June.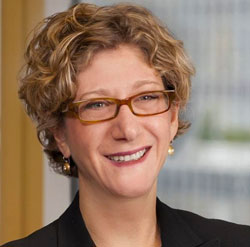 Ms Salomon, who takes the reins from former ICC Court President Alexis Mourre, was formally elected on 11 June by ICC's supreme governing body, the World Council. Ms Salomon is supported in her role by the ICC Court, comprising 195 members from 121 countries and including 17 Vice-Presidents which begins its 2021-2024 mandate under Ms Salomon's leadership today. The new ICC Court includes 68 new members and 12 new Vice-Presidents also elected during the World Council meeting of 11 June.
Ms Salomon's election marks a milestone in the ICC Court's almost 100-year history as the first woman to become President of the world's preferred arbitral institution.
Addressing members of the ICC World Council upon official election, Ms Salomon thanked the ICC Executive Board and World Council for placing their trust in her to lead the Court into its next century.
Ms Salomon said: "It is my commitment to you to do everything I can to ensure ICC remains the world's leading arbitral institution. It is because of our connections with the international business community and our reflection of their values that we are considered a true, trusted partner of business. I look forward to working with you to build on the strength and foundation undertaken to date to assure not only the quality of service we are providing today, but investing in the future to ensure the strength of the institution into our next century."

ICC Secretary John W.H. Denton AO said: "Claudia has a well-documented track record as an accomplished and effective counsel and arbitrator. I have no doubt that she will make a stand-out President of our ICC Court, driving innovation and inclusion to ensure ICC dispute resolution works for everyone, every day, everywhere."
The new configuration of the ICC Court for its 2021-2024 mandate makes it the most gender and geographically diverse composition in the ICC Court's history.
Secretary General of the ICC Court Alexander G. Fessas said: "I look forward to working closely with Claudia, building on the progress and successes of the Court under the leadership of Alexis. Claudia takes over at a challenging but exciting time as we drive the Court's growth and excellence forward into our next century. She will have the Secretariat's full support in delivering on her vision."
Elected new Vice-Presidents of the Court
Juliet Blanch (United Kingdom)
Sandra Gonzalez (Uruguay)
Samaa Haridi (Egypt / United States)
Daniel Hochstrasser (Switzerland)
Andrés Jana (Chile)
Sanjeev Kapoor (India)
Carole Malinvaud (France)
Michael Ostrove (France / United States)
V K Rajah (Singapore)
Helen Hong Shi (China)
Malgorzata Surdek (Poland)
Rolf Trittmann (Germany)
Elected new members of the ICC Court:
Sokol Elmazaj (Albania)
A F Hassan Ariff (Bangladesh)
Andres Moreno (Bolivia)
Bobson Coulibaly (Burkina Faso)
Wei Sun (China)
Dyala Jimenez (Costa Rica)
Hrvoje Markovinovic (Croatia)
Omar de Jesús Fernández Jimenez (Cuba)
George Triantafyllides (Cyprus)
Karolina Horakova (Czech Republic)
Humberto Saenz-Marinero (El Salvador)
Paul Keres (Estonia)
Natalie Reid (Jamaica)
Sara Koleilat-Aranjo (Lebanon)
Mamadou Konaté (Mali)
Jean-Charles Gardetto (Monaco)
Nominchimeg Odsuren (Mongolia)
Martje Verhoeven-de Vries Lentsch (Netherlands)
Anna Kirk (New Zealand)
Ahmer Bilal Soofi (Pakistan)
Marisol Ellis (Panama)
José Antonio Moreno Rodríguez (Paraguay)
Maria del Carmen Tovar (Peru)
Maciej Jamka (Poland)
Sultan Al-Abdulla (Qatar)
Gakuba Thierry Ngoga (Rwanda)
Khalid Alnowaiser (Saudi Arabia)
Tomas Borec (Slovakia)
Guled Yusuf (Somalia)
Dinal Phillips (Sri Lanka)
Therese Isaksson (Sweden)
Diana Akikol (Switzerland)
Lina El-Hakim (Syrian Arab Republic)
Noppramart Thammateeradaycho (Thailand)
Hassan Arab (United Arab Emirates)
Christopher Harris QC (United Kingdom)
Peter Sherwin (United States)
Quang Chau (Vietnam)
Tafadzwa Pasipanodya (Zimbabwe)
Elected new alternate members of the ICC Court
Federico Campolieti (Argentina)
Fabiano Robalinho Cavalcanti (Brazil)
Julie Bédard (Canada)
Shilin Huang Chinese (Taipei/Taiwan)
Juan Mendoza Diaz (Cuba)
Marcos Gregorios Dracos (Cyprus)
Mohamed Abdel Raouf (Egypt)
Georgios Panopoulos (Greece)
Simon Chapman Hong Kong (China)
Andy Ignatius (Indonesia)
Éamonn Conlon (Ireland)
Or Baron Gil (Israel)
Ferdinando Emanuele (Italy)
Joongi Kim (Korea)
Gabriela Alvarez Avila (Mexico)
Thomas Stouten (Netherlands)
Patricia Ann Prodigalidad (Philippines)
Bartosz Krużewski (Poland)
Dmitry Dyakin (Russia)
Hussam Al-Hejailan (Saudi Arabia)
Kabir Singh (Singapore)
Roman Prekop (Slovakia)
Carlos De Los Santos (Spain)
Patricia Shaughnessy (Sweden)
Laurent Killias (Switzerland)
Abdulhay Sayed (Syria)
Ali Al Hashimi (United Arab Emirates)
Elizabeth Gloster (United Kingdom)
Hop Dang (Vietnam)
See the complete list of all ICC Court members and Vice-Presidents.