G20
CEOs meet with G20 leaders to urge progress on trade and investment
G20 heads of state today met with CEOs representing the Business-20 or "B20" during a special session of the G20 Leaders' Summit at Strelna Palace, near Saint Petersburg in Russia.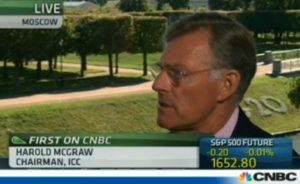 The CEOs, including members of the International Chamber of Commerce (ICC) G20 Advisory Group, presented policy recommendations to the heads of state, urging world leaders to drive economic growth and job creation by liberalizing trade and improving conditions for global investment, particularly in infrastructure.
These recommendations were the product of intensive collaboration among companies serving on B20 task forces since December 2012. The process was chaired by Alexander Shokhin, President of the Russian Union of Industrialists and Entrepreneurs (RSPP),who had been designated by President Vladimir Putin to organize B20 efforts during the Russian G20 presidency. The priorities shared with G20 leaders covered subjects including: trade, investments and infrastructure, financial systems, innovation anddevelopment, job creation, as well as transparency and anti-corruption.
Harold (Terry) McGraw – ICC Chairman, and Chairman and CEO of McGraw Hill Financial – took part in the meeting. He underscored that the impasse among members of the World Trade Organization (WTO) and an increasingly sluggish global trading system riskreversing significant progress made in global living standards over the past 60 years.
"Collective leadership by the G20 would inject new life into trade agreements that are vital for job creation, particularly the successful conclusion of an agreement on trade facilitation at the WTO Bali Ministerial in December," he said.
Mr McGraw cited research commissioned by ICC, which concludes that completion of a WTO trade facilitation agreement would translate into more than US$1 trillion in world export gains, increase global GDP by US$ 960 billion, and support more than 21 millionjobs, most of them in G20 countries.
"The most important thing for growth is trade and investment," Mr McGraw told CNBC.
Business and the G20
"The G20's expanding policy agenda bears directly on core business goals for trade, economic growth and job creation," said Jean-Guy Carrier, ICC Secretary General, who also attended the meeting with G20 leaders. "As the everyday practitioners of the global economy, we have a clear stake in the success of the G20. The business community believes the G20 remains a critical forum for global cooperation in support of growth and jobs.¨

ICC has echoed the B20's call for greater global investment in infrastructure. According to OECD estimates, approximately US$ 53 trillion of investment will be needed to meet the demand for infrastructure investment across the globe over the coming decades.
"A key constraint in increasing private participation in infrastructure lies with the lack of bankable projects and limited public-private partnership expertise in local governments and multilateral development banks," said Marcus Wallenberg, Chairman of the ICC G20 Advisory Group and Chairman of Sweden's SEB, who served as the co-chair for the B20 task force on investments and infrastructure and took part in the meeting in Saint Petersburg. "If the G20 can follow through on our investment recommendations – using the ICC Guidelines for International Investment as a template – investors will have the confidence they need to get off the sidelines and begin supplying capital, particularly for critical infrastructure projects."
CEOs also highlighted for G20 leaders the importance of trade finance as a cornerstone of the global trading system, with 80% to 90% of world trade relying on some sort of trade finance products. ICC has cautioned that a dramatic increase in capital requirements, from implementing Basel III principles, could have an unintended adverse effect on banks' ability to provide affordable trade finance. ICC's 2013 Global Survey on Trade and Finance found that a continued shortage of finance for international trade remains a major challenge for economic recovery and development, with experts identifying implementation of Basel III regulations as affecting the cost of funds and liquidity for trade finance.
"We hope that the G20 will be responsive to our concern that Basel III will generate unintended consequences that may restrict trade finance," Mr Carrier said. "An increase of 10% in availability of trade finance would result in 5% more production and 5% more jobs," he said.
Kris Gopalakrishnan, Executive Vice Chairman of India's Infosys, Ltd., added that G20 leadership would go a long way in spurring investment in innovative technologies that are important for economic growth and development.
"Energy efficiency and sustainability, food security, access to telecommunications will all benefit from the type of policy leadership and stable investment climates that the G20 can put in place," said Mr Gopalakrishnan, a leading member of the ICC G20 Advisory Group, as well as President of the Confederation of Indian Industries, who has also served as co-chair for the B20 task force on innovation and development.
"For the fourth consecutive year since the G20 Summit in Seoul, ICC and its member CEOs have served as a strategic partner in the B20 process," Mr Carrier said. "As the voice of international business, our mission is to press for the inclusion of business views in deliberations by G20 heads of state."
Since the Seoul G20 Summit Declaration noted the importance of business input, ICC has invested deeply in the G20-B20 process. Its member CEOs have co-chaired several B20 task forces, and it has participated actively in the development of business recommendations to G20 governments.
"Today's meeting reflects the constructive partnership between business and government that we hope and expect will continue when Australia and Turkey host the G20 Summit in 2014 and 2015,"said Alejandro Ramirez, CEO of Mexico's Cinépolis, who organized the B20 effort in Mexico last year.
ICC has also produced two editions of the ICC G20 Business Scorecard assessing the responsiveness of G20 governments to business recommendations. The Scorecard following the Los Cabos Summit of 2012 rated G20 responsiveness to business priorities as 'fair', indicating that G20 leaders are making progress but at a somewhat protracted pace. A third edition of the Scorecard assessing progress at St. Petersburg will be issued by the end of 2013.
Representatives of the ICC G20 Advisory Group include:
Marcus Wallenberg, Chairman and CEO, SEB (Sweden); Yassin S. Al-Suroor, President and CEO, A'amal Group (Saudi Arabia); Cesar Alierta Izuel, Executive Chairman, Telefonica (Spain); Emilio Azcarraga Jean, CEO, Televisa (Mexico); Antonio Brufau, Chairman & CEO, Repsol (Spain); Paul Bulcke, CEO, Nestle (Switzerland); Carlos Bulgheroni, Chairman, Bridas Corporation (Argentina); Kimball Chen, Chairman & CEO, Energy Transportation Group (United States); Marijn Dekkers, CEO, Bayer (Germany); John Denton, CEO and Partner, Corrs Chambers Westgarth (Australia); Eduardo Eurnekian, Chairman and CEO, Corporacion America (Argentina); Pierre Froidevaux Chavan, Chairman, ICC Mexico (Mexico); Victor K Fung, Chairman, Li & Fung (Hong Kong); Kris Gopalakrishnan, Executive Vice Chairman of Infosys Ltd (India); Ilham Habibie, CEO and President Director, PT Il Thabi Bara Utama (Indonesia); Rifat Hisarcıklıoglu, Chairman, Eskihisar Group and President of the Union of Chambers and Commodity Exchanges of Turkey (Turkey); Alexander Izosimov, Partner, Deep Roots Capital (Russia); Sheikh Al-Thani Khalifa, Member of the Board of Directors, Doha Insurance and Chairman of Qatar Chamber of Commerce and Industry (Qatar); Seung Youn Kim, CEO, Hanwha (Korea); Young Tae Kim, Chairman, Daesung (Korea); David Kinyua,, Chairman, Aberdares Water Company (Kenya); Andrew Liveris, Chairman and CEO, The Dow Chemical Company (United States); Harold McGraw III, Chairman, Chairman and CEO of McGraw-Hill Financial (United States); Gérard Mestrallet, CEO, GDF Suez (France); Yogendra Kr. (YK) Modi, Chairman & CEO, Great Eastern Energy (India); Raghu Mody, Chairman, The Rasoi Group (India); Peder Holk Nielsen, CEO, Novozymes (Denmark); Alejandro Ramirez Magana, Director General, Cinepolis (Mexico); Mahendra Sanghi, Chairman, MK Sanghi Group (India); Martin Senn, CEO, Zurich Insurance Group (Switzerland); Michael Smith, CEO, Australia New Zealand Bank, (Australia); Jean-Pascal Tricoire, President & CEO, Schneider Electric (France); Peter Voser, CEO, Royal Dutch Shell (United Kingdom/Netherlands); Gérard Worms, Vice Chairman, Rothschild Europe and Chairman of the ICC (France); Zola Tsotsi,, Chairman, Eksom Holdings (South Africa).
Download the ICC G20 Business Scorecard
Download the ICC Open Markets Index 2013
Download the ICC World Trade Agenda Business Priorities
Download the ICC's 2013 Global Survey on Trade and Finance