ATA Carnet
ATA Carnet steps into the digital age with new pilot project
The World Chambers Federation (WCF) of the International Chamber of Commerce (ICC) has launched the first stage of a pilot project to digitalise the ATA Carnet, a customs document allowing duty- and tax-free movement of goods for up to one year.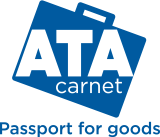 The project, known as Mercury II, will revolutionise the ATA Carnet by digitalising processes, making transactions and travel easier and more efficient for businesses and customs offices alike.
Endorsed by the World Customs Organization (WCO) earlier this year and back by more than 15 nations and the European Union (EU), the Mercury II pilot project is set to test a real-time ATA Carnet lifecycle management system proposed by ICC WCF. Today, the system is being developed and is expected to be live for testing between October 2018 and March 2019. During the development stage, approximately four countries, along with their respective national guaranteeing associations (NGA) and national customs agencies, will be appointed to participate and will be announced in the near future.
The selection process will be based on the following criteria:
technical requirements and considerations, such as the country's Carnet transaction volume—including imports and exports;
geographic location;
IT infrastructure in Customs border control offices;
readiness of national issuing systems;
relations between Customs and NGAs; and
human and financial resources.
The ATA Carnet system is currently in force in 78 countries, with Qatar being the most recent country to join the global network. With around 185,000 ATA Carnets issued in 2017 alone—covering goods valued at US$26 billion—it is more important than ever to ensure that Customs, Carnet holders, service providers and NGAs are as productive as possible. A digitalised Carnet—or eATA—will not only facilitate transactions but also increase data security, reduce exceptions and improve administration.