12 ways ICC enabled business to work for people and planet in 2019
With so much to look back on over the last year, we're wrapping up 2019 with 12 notable achievements of our world business organisation.
From publishing a Centenary Declaration setting out guiding principles for our global institution to helping scale solutions that advance global goals for people and planet, it's been another busy year for the International Chamber of Commerce (ICC). In case you missed any of our achievements on behalf of 45 million businesses worldwide, here's our year-end roundup.
1. We set out guiding principles for a new century of business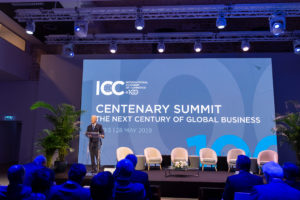 On the occasion of ICC's Centenary Summit to celebrate ICC@100, we set out a vision to shape the future of global business for the next century. The ICC Declaration on the Next Century of Global Business commits our world business organisation to use the full extent of its resources and global network to tackle 21st century challenges and disruptions.
Ahead of Centenary celebrations, ICC also revealed a new work programme organised around five pioneering campaigns to apply the unique power of ICC's global network to achieve real change at scale.
2. We launched Incoterms® 2020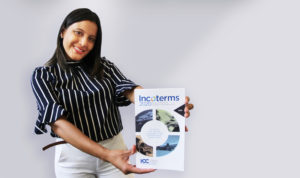 Helping importers and exporters around the world understand their responsibilities and avoid costly misunderstandings, ICC launched the newest edition of the Incoterms® rules–first created by our organization in 1936.
Unveiled in September on ICC's brand–new e-commerce platform Knowledge to Go, Incoterms® 2020 makes it even easier to identify the most appropriate trade term for contracts. More than 250 launch events and training seminars are taking place around the world to support the rules' entry into force, as well as an online course and certificate programme available from the ICC Academy. Looking ahead, ICC is working with digital partner Perlin to optimise the Incoterms® rules through blockchain technology.
3. We mobilised unprecedented climate action by businesses worldwide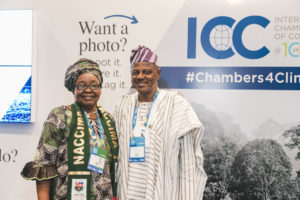 During the 11th World Chambers Congress in June, ICC launched a Chambers Climate Coalition to demonstrate the commitment of chambers of commerce and their business constituencies in taking climate action aligned with the Paris Agreement and the latest climate science. During a Congress plenary session dedicated to the Sustainable Developments Goals (SDGs), United Nations Special Envoy for the 2019 Climate Action Summit, Luis Alfonso de Alba, called on chamber and business leaders to join policymakers in the fight against climate change.
At the United Nations Climate Action Summit, which took place in September, ICC Secretary General John W.H. Denton AO announced that more than 2,100 chambers of commerce had signed up to the Climate Chambers Coalition. This engagement marked a "tipping point" in support of action to address the growing climate emergency. The Coalition, representing over 10 million local business leaders, was also announced as part of the Climate Ambition Alliance during this month's climate negotiations in Madrid at COP25.
The imperative of increased ambition on sustainability was the ICC message throughout the global agenda-setting United Nations General Assembly, in September. Led by our Secretary General John W.H. Denton AO and Chair Paul Polman, ICC was actively involved in a number of high-level meetings on financing, health coverage and small island developing states as the institutional representative of 45 million companies in over 100 countries.
4. And set out an achievable agenda for aligning the financial system with climate and sustainability goals
To address growing concern about persistent financing gaps to support the implementation of global sustainability objectives, ICC Secretary General John W.H. Denton AO published an open letter to finance ministers calling for a rethink of regulatory frameworks to align investment incentives with objectives of the 2015 Paris Agreement and the United Nation's SDGs. "Having spent 10 years fixing the financial system, it's now time to enable the financial system to fix the world," Mr Denton said.
After a decade-long program to fix the #financialsector after the financial crisis, now it's time to enable the financial system to fix the ?. At #COP25, @ICCSecGen calls on finance ministers to boldly support #ParisAgreement and #SDGs.
?10 step plan?https://t.co/jHCjRVEADK

— ICC WBO (@iccwbo) December 12, 2019
5. We rolled out digital solutions for trade​
A new, pioneering Centre of Future Trade, established by ICC and Perlin with the support of Enterprise Singapore, is enabling trade through innovative blockchain solutions–including the ICC Clarify platform (for value chain traceability and tracking), the International E-Registry of Ships (for digital vessel registration) and other fintech-related tools.
We also issued new electronic rules to advance the digitalisation of trade finance practices, providing a solution for banks operating in today's increasingly digital trade finance system. And also successfully issued the very first electronic ATA Carnet in line with digital ambitions to make technology work for all.
6. We raised concern when tariffs threatened to break the Internet
Responding to the wish of some states to lift a World Trade Organisation (WTO) moratorium on customs duties on electronic transmissions, ICC raised the concerns of global business through its far-reaching campaign #DontLetTariffsBreakTheInternet.
Earlier this month, ICC welcomed a decision by WTO members to renew the moratorium through to their next ministerial conference in June 2020.
In April, our Secretary General also called for an urgent response to digital protectionism in a letter published in the Financial Times.
Remember when dancing #Pikachu broke the Internet?

In a new twist to this year's #TradeWars, some governments are mulling tariff plans that could really make that happen.

Let's renew the @wto moratorium on electronic transmissions and #DontLetTariffsBreakTheInternet. pic.twitter.com/HBjuAmZgRG

— ICC WBO (@iccwbo) November 20, 2019
7. And set out recommendations to ensure tax regimes do not hamper e-commerce growth
In September, ICC published an inaugural brief on WTO negotiations on the trade-related aspects of e-commerce. The document included five key recommendations for WTO members to ensure that their Goods and Services Tax (GST) and Value Added Tax (VAT) regimes do not hamper e-commerce growth.
8. We issued ground–breaking recommendations to reform global trade
ICC unveiled a set of recommendations to guide the future of international trade. The guidelines provide an outcomes-based approach to reforming international trade with the overriding objective of making trade work for people and planet. Despite current global trade tensions, our recommendations affirm the importance of multilateral trade and the WTO system.
9. We received recognition for our work on compliance and ethics
ICC was awarded the 2019 Compliance and Ethics Award. Bestowed by the Society of Corporate Compliance and Ethics (SCCE) for the past 15 years, the prize recognises those who have made a significant contribution in the field of compliance and ethics. Anne Riley, Chair of the ICC Task Force on Antitrust Compliance and Advocacy and a Vice-Chair of the ICC Commission on Competition, accepted the award on behalf of our organization at the Compliance and Ethics Institute in September.
10. And published updated marketing communications guidelines for business
The frameworks provide business with guidance on how to communicate their products in a legal, decent, honest, and truthful manner and clarify that everyone has a part to play–including market influencers and bloggers.
11. We expanded our global footprint to amplify the voice of business where it counts
ICC expanded its global network to include new representation in Geneva and Brussels, bringing the voice of business closer to policymakers.
ICC Secretary General John W.H. Denton AO also announced the creation of ICC Vietnam, the latest member of ICC's expanding network of country branches, known as national committees. ICC Vietnam is hosted by the Vietnam Chamber of Commerce and Industry (VCCI) in Hanoi.
The expansion fortifies ICC's unique global footprint and strengthens the world business organisation's international engagement and outreach on behalf of over 45 million companies worldwide.
12. And finally, we went APPsolutely mad for mobile applications
ICC launched practical apps for the Incoterms® Rules, Dispute Resolution Services and ATA Carnets, helping users of our services and tools worldwide access the information they need on their mobile devices anytime, anywhere…
? Customs declarations and transactions are going #digital!
The #ATACarnet ? app is now available for testing in 6 pilot countries.

Find out if your county is one of them!https://t.co/qcL4SGBFMS pic.twitter.com/iDlRaPIngW

— World Chambers (@WorldChambers) October 2, 2019
Discover our 12 ICC Dispute Resolution achievements of 2019.