Marketing & advertising
ICC Advertising and Marketing Communications Code
ICC's Consolidated Code of Advertising and Marketing Communication Practice—or the ICC Marketing Code—is a globally-applicable self-regulatory framework, developed by experts from all industry sectors worldwide.
---
What's new in the ICC Marketing Code?
This 10th revision ensures that the ICC Marketing Code is maintained as the global reference point for marketing self-regulation, fit for the digital world.
Key changes to the ICC Marketing Code include:
Enhanced guidance
on distinguishing marketing communications content from true editorial and user generated content

Clarified rules
on advertising to children and teens including new, sharp definitions

Consolidated rules
on direct marketing and digital marketing communications

Updated terminology and guidance
on the applicability of mobile phones and cross-devices to location-based advertising and interest-based advertising

Expanded coverage
of the rules to include emerging mediums and participants, such as social media, artificial intelligence-enabled marketing, market influencers, bloggers, vloggers, affiliate networks, data analytics and ad tech companies

What is the ICC Marketing Code?
ICC's Advertising and Marketing Communications Code – or the ICC Marketing Code – is a globally-applicable self-regulatory framework, developed by experts from all industry sectors worldwide. Since 1937, it has served as the cornerstone for most self-regulatory systems around the world, from the French ARPP Code to China's Responsible Marketing Code. The Code is the backbone of the global advertising and marketing industry.
The ICC Marketing Code seeks to protect consumers by clearly setting out the 'dos and don'ts' for responsible marketing to ensure legal, honest, decent and truthful communications and practices. The Marketing Code sets high standards for a full range of marketing activities, including digital marketing communications with measures to protect children and consumer privacy.

A range of actors rely on the ICC Marketing Code


Marketers
Building consumer trust by maintaining high ethical standards


Marketers
Building consumer trust by maintaining high ethical standards


Regulators
Providing a solid, cost-effective and flexible starting point for safeguarding consumers


Academic community
Granting students a firm foundation in ethical decision-making in today's marketing and advertising environment
Putting it into practice
ICC's Marketing Code provides a solid, cost-effective and flexible starting point for considering ethical marketing standards that can be adapted to local needs.
To help marketers, advertisers, regulators or any other actors better understand the ICC Marketing Code, the ICC Academy offers a free online course on ethical marketing.

An updated implementation guide is also enclosed in an annex of the ICC Marketing Code to help various stakeholders in the marketing and advertising ecosystem put the framework into practice.
ICC Marketing Code: Key principles
SCOPE AND APPLICATION
The ICC Marketing Code covers all forms of advertising and marketing communications, including digital advertising and social media. It is technology and media neutral. It applies to the entire marketing eco-system, guiding communications practitioners, advertising agencies, publishers, media owners, contractors and other participants including market influencers, bloggers, vloggers, affiliate networks, data analytics and ad tech companies as well as those responsible for preparing algorithms and the use of artificial intelligence for marketing communications purposes.
ARTICLE 1 | BASIC PRINCIPLES
All marketing communication should be legal, decent, honest and truthful.
ARTICLE 2 AND 3 | DECENCY AND HONESTY
Marketing communications should not offend standards of decency currently prevailing in the country and culture concerned. They should not abuse consumers' trust or exploit their lack of experience or knowledge.
ARTICLE 4 | SOCIAL RESPONSIBILITY
Marketing communications should respect human dignity and not incite or condone any form of discrimination or anti-social behaviour.
ARTICLE 5 AND 8 | TRUTHFULNESS AND SUBSTANTIATION
Marketing communications should not mislead the consumer with respect to the product. All forms of claims relating to verifiable facts should be capable of substantiation at the time of publication.
ARTICLE 9 | IDENTIFICATION AND TRANSPARENCY
Marketing communications should be clearly distinguishable and when appearing in a medium containing news or editorial matter, where appropriate, labelled as such. They should not misrepresent their true commercial purpose.
ARTICLE 10 | MARKETER IDENTITY
The identity of the marketer should be apparent.
ARTICLE 12 AND 15 | FAIR COMPETITION
Marketing communications should not denigrate or ridicule competitors or their products, other firms, organisations or persons. Marketing communications should not make unjustifiable use of the name, logo or trademark of another firm or institution, and should not take undue advantage of the goodwill belonging to others.
ARTICLE 18 | CHILDREN (< 12S) AND TEENS (13-17)
Special care should be taken in marketing communications directed to or featuring children or teens. They should not undermine positive social behaviour, lifestyle and attitudes.
ARTICLE 19 | DATA PROTECTION AND PRIVACY
When collecting personal data from individuals, care should be taken to respect and protect their privacy by complying with relevant rules and regulations.
ARTICLE 23 | RESPONSIBILITY
Whatever the nature of the activity, medium or technology, responsibility is shared by all parties concerned, commensurate with their respective role in the process and within the limits of their respective functions.
The ICC Marketing Code around the world
The ICC Marketing Code functions within the framework of local, national or regional legislation, supplementing regulation in a complementary manner. The below map shows where self-regulation frameworks are either based on the ICC Marketing Code, national codes or remain non-existent.
42 countries have or are developing national codes based on the ICC Marketing Code
52 countries have advertising self-regulations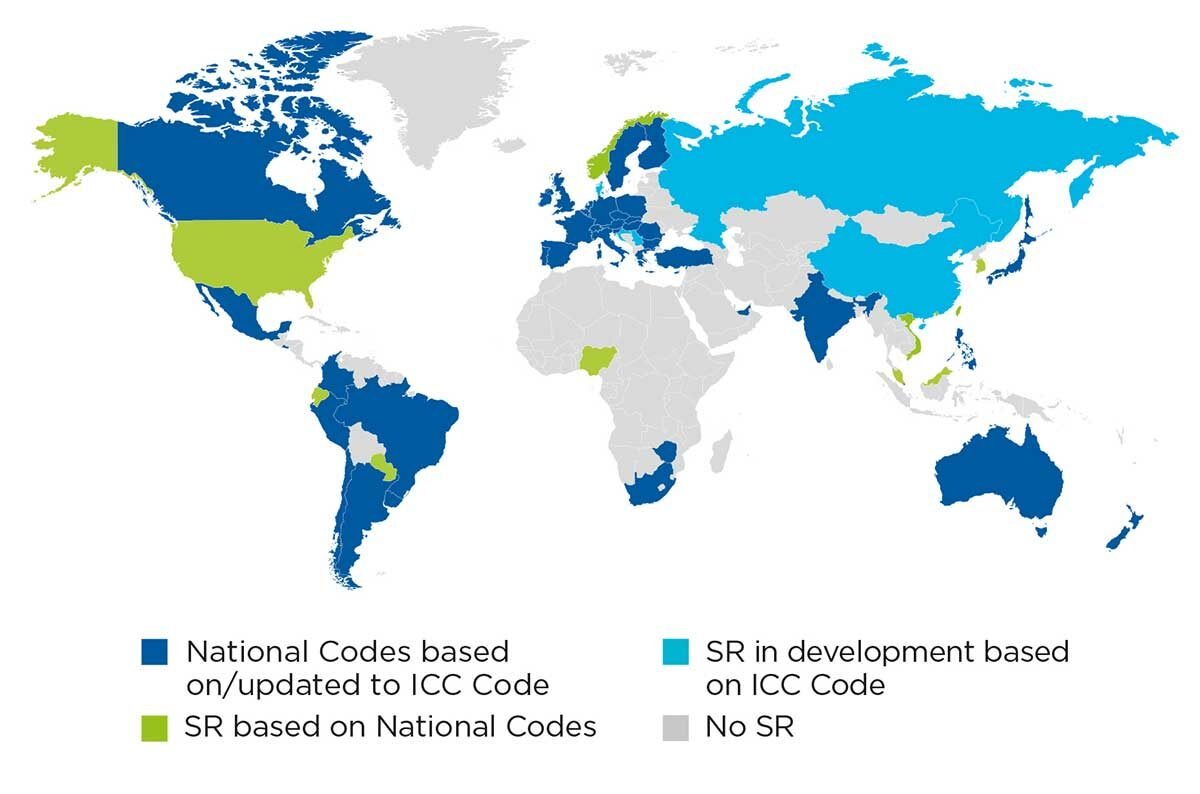 Frequently asked questions
The value and effectiveness of marketing and advertising depend on consumer trust. Self-regulation protects consumers and provides a cost-effective, accessible and responsive alternative to other legal avenues. Setting and enforcing best practices for industry gives consumers clarity on standards and recourse while freeing up scarce government resources to focus on rogue traders and other fraudulent practices. Self-regulation also allows greater flexibility than regulation, permitting rapid and measured adjustments to changing technologies and other new market factors.
ICC's Commission on Marketing and Advertising brings together the world's top experts on regulation, self-regulation and ethical best practices in marketing communications. This group, spanning companies of all sizes and sectors from every region of the world—in consultation with ICC's national committees and industry associations—identifies marketing issues and concerns in consumer protection and develops the content of the ICC Marketing Code to address them.
Are you an expert interested in joining our working group? Contact Georgiana Degeratu at georgiana.degeratu@iccwbo.org or Jessica Reed at jessica.reed@iccwbo.org to see how you can get involved.
Want more information on the ICC Marketing Code or self-regulation systems in a specific country? Send us an email and we'll be in touch!