Trade & investment
World economy edges closer to recovery as Asia regains confidence, ICC-Ifo survey reveals
The world's economic climate is brightening, restoring hopes for global recovery after a cautious third quarter, reveals a World Economic Survey published today by the International Chamber of Commerce (ICC) and the Munich-based economic research institute Ifo.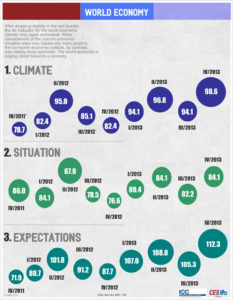 Carried out in partnership with ICC, the latest Ifo World Economic Survey of more than 1,000 economists in 120 countries shows a slight improvement in the current global economic situation and a significantly brighter outlook for the six months ahead. The poll's economic climate indicator has risen to 98.6 for the fourth quarter of 2013, despite dropping to 94.1 in the third quarter.
"The survey's more optimistic reports from economists worldwide are encouraging," said ICC Secretary General Jean-Guy Carrier. We now look to WTO negotiators, meeting in Bali next month, to conclude a trade facilitation deal could create more than US$1 trillion in world export gains and approximately 21 million jobs, contributing significantly to global economic prospects."
Upbeat Asia
Following a shaky third quarter, confidence in Asia's economy show a marked recovery, mainly driven by positive expectations in Japan and China. With the region's current economic situation back to "satisfactory", and expectations buoyant for future economic developments, the Ifo economic climate indicator for Asia has risen above its 15 year average.
Gernot Nerb of the Ifo Institute said: "Given the weight of Asia in the world economy, I'd consider this renewed confidence as highly influential for the recovery of the world economy."
North America dips
Recent improvements in North America's economic climate stalled slightly as World Economic Survey experts became more critical of the economic situation during the US government's partial shutdown last month. However, the dip in confidence was small and six-month expectations remain positive.
Eurozone lagging but hopes remain high
Confidence in the eurozone has grown markedly, even though economic recovery is lagging behind other world regions. The divide is widening between northern and southern euro economies and although the economic situation has improved overall it remains unfavourable. High unemployment, public budget deficits and weak demand continue to plague several countries.
However, six-month expectations are at their highest for almost three years. Experts are also more confident about economic perspectives for the next 3-5 years. Only one country – Cyprus – expects continued decline. Particularly high optimism in Germany has helped the eurozone's economic climate indicator rise above its long-term average for the first time since 2011.
Mr Nerb said: "There are growing signs that Europe is coming out of the doldrums and is finally showing signs of recovery. The expansionary monetary policy of the ECB is certainly one of the reasons for that."
The ICC-Ifo survey shows Greece, Italy, Portugal, Spain and Cyprus remain in crisis. Germany and Estonia are still the only economies to be scored as "satisfactory to good".
Inflation outlook unchanged
Globally, WES analysts expect a 3.2% increase in prices for 2013, unchanged from the previous two quarters. Estimates for the euro area remain at 1.7% for 2013. Short-term interest rates, set by central banks, are expected to remain largely stable on average over the next six months. However, a growing number of analysts expect a rise in long-term interest rates, which are affected mainly by the capital market. Despite a slight increase forecast in long-term interest rates over most of the eurozone, decreased or unchanged rates are expected in crisis-afflicted countries.
WES economists expect the value of the US dollar to grow moderately over the next six months, and the US dollar to appreciate against the euro. Most believe the euro is overvalued against the US dollar and the Japanese yen.
Spotlight on trade facilitation
In the run-up to the World Trade Organization's meeting of ministers in Bali next month, two special ICC questions in the survey focused on trade facilitation.
WES economists were asked if governments should conclude an agreement on trade facilitation to simplify customs procedures. In every world region, at least 94% answered that they "agree" or "strongly agree". Consent is particularly pronounced in North America, where 100% of respondents would like to see customs processes simplified. Support is lower in countries specializing in goods such as agricultural products, steel and lumber, where trade facilitation is perceived to bring less substantial gains.
Most respondents also believed governments should agree to employ alternative, pragmatic negotiating approaches to liberalize world trade within a multilateral framework. Support was highest in North America where 94% of respondents agreed with this approach, most of them "strongly". Consent appears slightly lower in the Near East, Africa, Eastern Europe and the CIS countries.