World Chambers Competition winners announced
The 2013 World Chambers Competition concluded today with the announcement of five winning projects.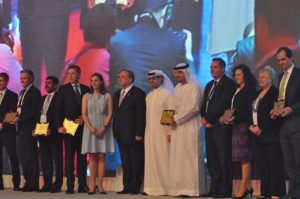 Winners of each category are as follows:
Best corporate social responsibility project
Dubai Chamber of Commerce and Industry (United Arab Emirates)
Best international project
Bristol Chamber of Commerce (United Kingdom)
Best small business project
New South Wales Business Chamber (Australia)
Best unconventional project
Greater Durham Chamber of Commerce (United States)
Best youth entrepreneurship project
Estonian Chamber of Commerce and Industry (Estonia)
The 2013 Competition received entries from 65 chambers of commerce and industry from 42 countries. The 25 finalists presented their innovative projects to an international judging panel during dedicated Congress sessions.
"The competition is the heart of the Congress," said Rona Yircali, World Chambers Federation Honorary Chairman and Chair of the World Chambers Competition Jury.
Celebrating a win for 'Acorn Interactive' – a web platform to enable businesses to get exporting, and exporting better – Bristol Chamber of Commerce Commercial Director James Monk said: "It's fantastic to win the award but now the really exciting part is rolling the platform out to other chambers and their members across the world."
Winning projects were announced during an award ceremony held in Doha on the closing day of the 8th World Chamber Congress.
Each winning project takes home €3,000, generously donated by Competition sponsors MK Sanghi Group, Sydney Chamber of Commerce and Torino Chamber of Commerce.
View the list of finalists of the 2013 World Chambers Competition
Visit the 8th World Chambers Congress