World Chambers Competition names 2021 chamber champions
ICC crowned four chamber champions as winners of the 2021 World Chambers Competition, the only awards ceremony of its kind to recognise innovative projects undertaken by chambers from around the world.
Held in conjunction with the 12th World Chambers Congress, the World Chambers Competition has served as a platform to inspire the creation of pioneering and beneficial chamber solutions for business communities worldwide since its inception in 2003.
Lima Chamber of Commerce (Peru), Luxembourg Chamber of Commerce (Luxembourg), the East Lancashire Chamber of Commerce (United Kingdom) and Potsdam Chamber of Commerce and Industry (Germany) were all named category winners at a Congress Gala and Competition Awards Ceremony following presentations made to a panel of judges over the last three days.
In recognising the success of local initiatives, the Competition celebrates the achievements and impact of chambers while bringing their stories to life for a global audience. What's more, the Competition enables change to make the world a better place for people and planet by spotlighting the diversity and enterprise championed by participating chambers.
Commenting on the purpose of the Competition, ICC Secretary General John W.H. Denton AO said: "Our goal is to provide a global platform to showcase the ability of chambers to move the dial on economic and social progress through innovative, locally tailored solutions to challenges and disruption. The Competition highlights the impact these chambers are having, with a view to inspiring further action, opening doors for collaboration and initiating new conversations."
This year, chambers have competed across four categories:
Best Digital Project
Best Resilience Project
Best Climate Action Project and
Best Unconventional Project
Despite disruption brought about by the ongoing global health crisis, the Competition received 78 entries from chambers in 33 countries.
In September, the Competition's international jury shortlisted 16 chambers, who over the last three days had the opportunity to present their pioneering projects to more than 1,000 international delegates. For the first time in the Competition's history, Congress delegates were included in the voting process.
Commenting on the calibre of initiatives for this year's edition, Competition judge Todd Letts said: "The global pandemic brought major disruption to business communities worldwide. The quality of this year's Competition submissions is a testament to the resilience, innovation and commitment to sustainable prosperity that defines the spirit of chambers. The award-winning stories of businesswomen and men working together through their chambers were truly inspiring."
The winners of the 2021 World Chambers Competition are:
The Best Digital Project
Lima Chamber of Commerce (Peru)
The initiative, "Digital Chambers: The New Age" is a totally innovative project that uses 100% digital technology to convert all of the chambers business services from "face-to-face" to "digital or virtual", as well as facilitates the digital transformation of members and clients for their adaptation to the "new normal", improvement and competitiveness.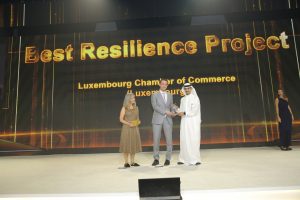 Best Resilience Project Luxembourg Chamber of Commerce (Luxembourg)
The House of Entrepreneurship aims to support entrepreneurs throughout their whole entrepreneurial experience, from business creation to development and business transfer. The objective of this project is not only to help entrepreneurs with administrative procedures but also to analyse their projects, identify the appropriate programmes and partners and carry out support programmes to create a resilient entrepreneurial landscape.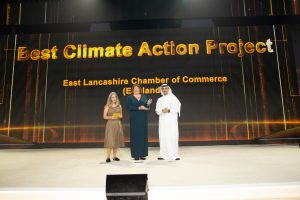 The Best Climate Action Project
East Lancashire Chamber of Commerce (United Kingdom)
The initiative, "The Chamber Low Carbon Project" aims to transform the region of Lancashire in the United Kingdom into a profitable, low carbon economy through unlimited support to help businesses to create, review and implement their low carbon plans. It also works to support the innovation, R&D, manufacture and commercialisation of ground-breaking low carbon technologies across the area and take them to a local, national and global marketplace.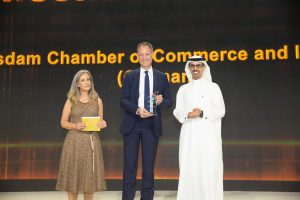 The Best Unconventional Project
Potsdam Chamber of Commerce and Industry (Germany)
The project, "Schüfi: The App for Teen Entrepreneurs" teaches curious students not only the key basic elements of successful entrepreneurship but also offers guidance on setting up a company. Above all, it is a small, easy-to-use enterprise resource planning system.
Commenting on what this recognition means to the Lima Chamber of Commerce in Peru, Mónica Chávez, the Chamber's Foreign Trade Manager said: "We would like to thank ICC and its World Chambers Federation for giving us this great opportunity to show off our proposal to all the chambers throughout the world. This experience has helped us to show what we have been doing to help our SMEs in their digitisation projects and transformation. Many chambers that have been participating in this event have and are interested in our project. We have made some great contacts, too, and I'm certain our project will have a great [future]."
We would like to thank the Yassin Al Suroor Foundation, who has kindly sponsored this year's World Chambers Competition.