Chambers services
The world business organization: Our year in review
As 2016 draws to an end, we're taking a moment to look back at some highlights of our work this year. From activities of the International Court of Arbitration to new initiatives to support our efforts to promote global trade and investment… we're sure you'll agree it's been a busy and effective year for world business.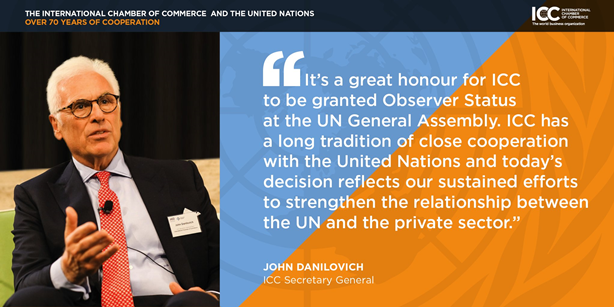 Leading dispute resolution worldwide
In 2016 the ICC International Court of Arbitration (Court) announced several new policies to foster transparency and ensure greater efficiency. These included a move to publish limited information pertaining to the composition of ICC tribunals , revisions to a practice note on fees and administrative expenses and the adoption of a Guidance Note on conflict disclosures by arbitrators .
The Court also announced measures to step-up its presence in South Asia and became the first non-Asian headquartered dispute resolution institution to establish an office in mainland China with the opening of a new ICC representative office in Shanghai's Free Trade Zone.
The year wrapped up with the announcement of important amendments to the ICC Rules of Arbitration (Rules). The revised rules will apply from 1 March 2017 while a new scale of costs becomes effective on 1 January 2017.
Expanded e-learning possibilities with the ICC Academy
The ICC Academy unveiled a new training recognition programme allowing students to earn credits for ICC Academy certification programmes when they attend workshops, conferences and other events that focus on their area of study. The Academy also launched new e-courses – ranging in topics from capital and pricing to distributor finance and fraud and reputational risk – and unveiled an advanced version of its popular e-course on documentary credits and its advanced programme on trade financing.
Demonstrating why #TradeMatters
In May, ICC launched a major campaign to promote a balanced and evidence-based debate on the role of trade in today's economy.
The campaign, #TradeMatters , kicked off with the publication of a joint op-ed in the Wall Street Journal by ICC Chairman Sunil Bharti Mittal and Director-General of the World Trade Organization (WTO) Roberto Azevedo. The piece pointed to the changing shape of private sector engagement in global trade negotiations amid growing interest in a WTO capable of delivering tangible outcomes.
Leadership changes
In June, telecom giant Sunil Bharti Mittal was named ICC Chairman, taking over the ICC Chairmanship from Terry McGraw, Chairman Emeritus of S&P Global, who became ICC's Honorary Chairman. Mr Mittal is Founder and Chairman of Bharti Enterprises and formerly served as ICC First Vice-President.
Celebrating 80 years of Incoterms® rules
July marked the 80th anniversary of the indispensable ICC international commercial trade terms known worldwide as the Incoterms® rules. We journeyed through 80 years of milestones for the commercial trade terms that have transformed the global trade industry.
Supporting global goals
Governments convened in New York in April for the first United Nations (UN) meetings on implementation of the Sustainable Development Goals (SDGs). ICC marked the occasion by highlighting eight principles to drive investment in sustainable development.
ICC also co-hosted the inaugural SDG Business Forum , marking a first milestone for gauging business efforts during the first year of SDG implementation.
Under the theme #PeoplePlanet, the 2016 ICC Photographic Award invited professional and amateur photographers to submit an entry exploring the challenges and/or solutions to one or more of the 17 Global Goals for sustainable development. The Award received submissions from more than 500 participants in over 60 countries and was won by Amitava Chandra of India.

Widening our global network
Continuing the global expansion strategy of our unique global network, ICC launched new offices in Afghanistan, Ecuador, Kenya and Peru. Together with ICC representative offices for other territories such as Hong Kong and Macao, the total number of offices located worldwide now stands at 92.
Enabling e-commerce
ICC hosted a series of high-level meetings with tech giants and startups on possible steps to accelerate the development of digital trade for the benefit of all. The first meeting took place in Silicon Valley followed by New York. More meetings are planned for 2017.
Business also issued recommendations on a new global agreement to support e-commerce for small- and medium-sized enterprises (SMEs). ICC Secretary General John Danilovich presented the proposal on behalf of the world business organization during a meeting of the ICC-led business focus group, established by the WTO to seek private sector views on new ways to strengthen the multilateral trade agenda.
And finally…

The year ended on a high note when the UN General Assembly took the historic decision to grant ICC Observer Status. Commenting on the UN's unprecedented move, ICC Secretary General John Danilovich said:
"Given the complexity of today's global challenges, it's vital that business has a clear voice in UN decision making. We look forward to using this unique platform to deploy fully the resources, expertise and knowledge of world business in the work of the General Assembly.