Climate change
Taxation commission welcomes new Vice-Chairs
A biannual meeting of the ICC Commission on Taxation, which took place in Paris yesterday, welcomed new Vice-Chairs Christian Kaeser, Global Head of Tax for the Siemens Group and Chris Lenon, founder of Green Tax.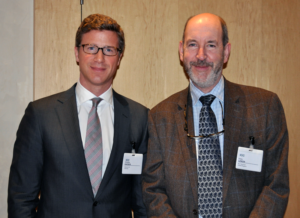 Mr Kaeser joined Siemens AG in 2002 and was appointed Global Head of Tax for the Siemens Group in 2009. He commenced his professional career at a German based tax advisory firm after having worked for several years as an assistant professor at the University of Mainz. "Business goes global, taxes stay local. It's ICC that bridges the gap," he said.
Mr Kaeser is also Chairman of the supervisory board of World Tax Services and a member of the faculty of the Institute for Austrian and International Tax Law at the University of Economics and Business, Vienna.
Mr Lenon chaired the taxation committee of the Business and Industry Advisory Committee from 2010 to 2012 and has chaired the Green Tax Group for Business Europe from its inception in 2008 to date. Mr Lenon was Global Head of Tax for Rio Tinto from 1993 to 2010. He focuses on Environmental Tax, Sustainable tax planning, Transparency and Transfer Pricing.
Mr Lenon said: "I am very pleased to join the ICC Commission on Taxation with responsibility for Climate Change and Sustainability. These are important strategic challenges for business in ensuring good tax policy development."
The two new commission officers take over the reins from Jean-Marc Tirard and Barbara Kessler who have served as Vice-Chairs on the commission for 24 years and 7 years respectively.
Paying tribute to Mr Tirard and Ms Kessler at a farewell cocktail reception, commission Chairman Theo Keijzer said: "You have done the business community an awful lot of good and you will be remembered for having the global business framework very close at heart."
The ICC Commission on Taxation analyses developments in international fiscal policy and legislation and puts forward business views on government and intergovernmental projects affecting taxation. It currently comprises over 130 international tax experts from all sectors of business and private practice. For further information please contact…
For more information visit the ICC Commission on Taxation.