Model contracts & clauses
New ICC Model International Sale Contract hits the shelves
ICC has released its newly updated Model International Sale Contract, that allows companies and lawyers to define their own reliable import-export agreements that are in line with Incoterms® 2010 and the latest developments in international trade.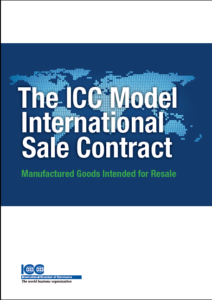 Under the guidance of the ICC Commission on Commercial Law and Practice, business and legal experts from around the world have worked together to make the new ICC Model International Sale Contract as user-friendly and commercially relevant as possible.
The new model contract sets out clear and concise standard contractual conditions for the most basic international trade agreement. Although it applies mainly to the export of manufactured goods for resale, it can also serve as an example for other transactions. Balancing the interests of sellers and buyers, it can also be used as a 'purchase agreement'.
"The big plus for ICC's new Model Sale Contract is that it's even more user-friendly and flexible; and it's fair and balanced for all parties. The CD-ROM will save time and expense for companies of all sizes," said Emily O'Connor, Senior Policy Manager of ICC's Commission on Commercial Law and Practice, who oversaw the revision.
One new feature is a provision for organizing payment through Bank Payment Obligation (BPO), a new instrument for trade settlement developed jointly by the ICC Banking Commission and SWIFT. The aim is to combine flexibility with the payment security of a Letter of Credit.
In the ICC Model International Sale Contract, users will find clear directions that take sellers and buyers through each step in the process. These steps include: general characteristics of the contract, scope of application, termination of the contract and dispute resolution.
A section on "Specific Conditions" features a model for parties to use directly by filling in sections of a form while a "General Conditions" section provides a platform of standard legal terms, to use as a reference for contract drafting or negotiation.
Beginners will be aided by the digital version's on-screen guidance, with warning messages appearing if incompatible clauses are selected, or vital fields left blank.
The ICC Model International Sale Contract is specifically adapted for transactions governed by the UN Convention for the International Sale of Goods (CISG), included in the annex, which applies to an increasingly large volume of international sales.
The revised ICC Model International Sale Contract is the latest addition to ICC's widely-acclaimed series of model contracts used by businesses worldwide.