Mediation
New ICC institute dossier tackles third party funding in international arbitration
The International Chamber of Commerce (ICC) Institute of World Business Law has published Dossier X: Third-party funding in international arbitration, the 10th Dossier in its renowned series on new practices in international arbitration.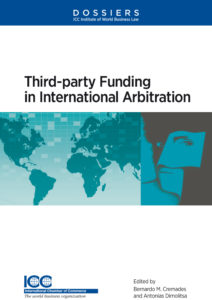 Third-party funding, is a relatively new – and controversial – solution for helping parties to access costly international arbitration proceedings. While it has been embraced by Anglo-Saxon countries, others remain suspicious. ICC analysis of this controversial topic draws on debates between leading international arbitrators and practitioners, and major third-party funding corporations.
"This 10th Dossier of the Institute is set to be a masterpiece in the collection," said Yves Derains, Chairman of the ICC Institute of World Business Law, who was formerly Secretary General of the ICC International Court of Arbitration. "Third-party allows easier access to arbitration for impecunious claimants with meritorious claims but raises questions about the independence of counsel controlling the proceedings, particularly in the choice of the arbitrator. These questions, examined in our Dossier, are fundamental to the international arbitration community."
Co-editors, Bernardo M. Cremades and Antonias Dimolitsa, hope Dossier X will not only contribute new understanding to the ever-evolving debate on the risks of third-party funding, but also clear the picture for anyone working in the increasingly complex field of international arbitration.
Dossier X: Third-party funding in international arbitration gives insight into the latest third-parties funding techniques, the range of legal issues raised and the potential reactions of international arbitration practitioners.
Contributors include: Georges Affaki, Christopher Bogart, Régis Bonnan, Antonio Crivellaro, Eckhard Hellbeck, Mark Kantor, Charles Kaplan, Carolyn Lamm, Laurent Lévy, Angelynn Meya, Selvyn Seidel, Maxi Scherer and Sandra Sherman.
The Dossiers are the outcome of the ICC Institute of World Business Law's annual meetings, where experts from around the globe converge to debate salient issues of international commercial law. They are inspired by the wish to see international arbitration practices develop in a way that is compatible with the basic principles that ensure all parties' rights.
This year, the Institute's 33rd Annual meeting will focus on International Arbitration and Substantive Applicable Law and is set to take place on 5 December in Paris.
Order a copy of the Dossier X: Third-party funding in international arbitration
To consult other publications in the Dossiers of the Institute series visit ICC Bookstore
For information on the 33rd Annual meeting of the ICC Institute of World Business Law visit ICC Events & Trainings