Model contracts & clauses
New ICC book demystifies world of international commercial contracts
ICC has published a new ICC guide to drafting and negotiating international commercial contracts. It will help lawyers and business people worldwide avoid the most common pitfalls of cross-border deals.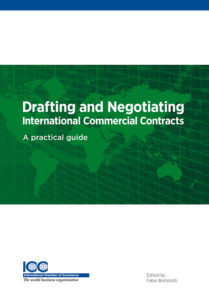 Drafting and negotiating international commercial contracts – A practical guide provides a thorough understanding of the institutional and legal frameworks for cross-border business contracts. Using real examples to clarify the main issues, it analyses the negotiating process and sets out the basic requirements of a well-drafted contract.
According to Yves Derains, Chair of the ICC Institute of World Business Law, international commercial contracts are being used more and more, but remain confusing for many business people and their lawyers.
"Drafting an international commercial contract is risky, and can lead to costly litigation if you don't get it right," warned Mr Derains. "This new book will be an invaluable guide for business people and lawyers needing to understand the context – and the possible solutions – and take the most appropriate decisions. The author, Fabio Bortolotti, is not only a practising lawyer but also a fabulous teacher."
To write such a realistic, practical guide, Fabio Bortolotti, who is Chair of the ICC Commission of Commercial Law and Practice and a world-renowned expert on contract law, drew on his own experiences of helping companies and lawyers in their first attempts to do business internationally.
Written in plain English, the guide demystifies developments such as the consequences of substituting the 1980 Rome Convention with the Rome I Regulation in 2009. Readers will find authoritative analysis of the new 2012 ICC Rules of Arbitration, and international standards such as UNIDROIT's Principles of International Commercial Contracts 2010. Drafting and negotiating international commercial contracts also covers Incoterms® 2010 and relevant ICC model contracts, such as the ICC Model International Sale Contract which was reviewed and updated in 2012.
The Guide is now available on the ICC online bookstore