Mediation
Munich students win ICC Mediation Competition 2014
A team of law students from Ludwig-Maximilian University of Munich has won the 9th ICC International Commercial Mediation Competition, beating first-time entrants Monash University, Australia, in a riveting final mediation session in Paris.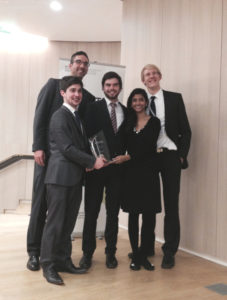 Competition newcomers Maastricht University finished third, and Bucerius Law School in Germany won fourth prize.
In a final closely observed by some 350 spectators, students demonstrated their mediation advocacy skills in solving a life-like dispute over the patenting of a newly invented pharmaceutical drug. Applying ICC's new Mediation Rules, Monash played the part of the requesting party, and Munich the respondent, with team members acting as either counsel or client.
"The competition is a great opportunity to see how students from other countries and jurisdictions address commercial disputes that businesses face," said Conor McLaughlin, member of the winning team along with Harley Steward and Martina Rehman. "Mediation is probably new to a lot of law students. Most focus primarily on litigation. So this competition gives us an opportunity to explore other ways of resolving disputes, and try and find solutions that don't involve the lengthy, costly, and sometimes destructive, route to litigation."
Munich was coached by Raffael Probst, of the Munich Center for Dispute Resolution, with help from PhD-Student David Kaufmann. Mr Kaufmann said: "My research is mainly on psychology and neuroscience of moral judgment and cooperative behaviour, which kind of helps when it comes to understanding how you get the other side to stay at the table and join you in exploring joint interests and options. It was very interesting to see, for the first time, how things I know in theory actually translate to the practice of mediation and negotiation."
Biggest ever ICC Mediation Competition
An award ceremony marked the close of this biggest ever ICC Mediation Competition, which over six days brought together 66 university teams and 120 professional mediators from around the world. Munich's prize included internships with the ICC International Centre for ADR, and the Litigation and Arbitration Department of Linklaters.
"Through our annual Mediation Competition, ICC aims to raise awareness of mediation which provides businesses with a procedural framework to settle matters cordially, rapidly and cost-effectively," said Jean-Guy Carrier, ICC Secretary General. "ICC is proud to contribute to the education of the next generation of dispute resolution specialists and to provide a platform for mediators from all around the world. We hope all participants return home with increased knowledge and skills, helping promote high mediation standards around the world."
For Pablo Bernad, Partner, Head of KPMG Risk Consulting in Europe, Middle East, Africa and South Asia (EMA), headline sponsor KPMG sees ICC's Mediation Competition as a source of new talent. He said: "When we recruit, we look for people like the students here who are willing to get out of their comfort zone. Their mediation skills will be very important both in mediation, and in real life, in real business. The ICC Mediation Competition provides a neutral ground to bring those skills out. And it raises standards by bringing a great diversity of students and coaches from across the globe together with some of the most renowned professionals in the industry."
Monash: process and facts
The Monash University team comprised Master of Law students Tessa Sullivan, Joanne Paul and Julia Larner, and undergraduate arts/law student Jemima Roe. Coach Naomi Burstyner, senior researcher and lecturer at Monash University's Australian Centre for Justice Innovation (ACJI), and consultant in negotiation and conflict resolution, said: "If you prepare students for mediation in terms of learning a theory and a process, and you give them an opportunity to understand the facts, they feel safe, and they'll do well. That's probably one of the most important things they learnt at this competition."
Co-coach Wendy Gaddie, senior researcher, and coach at ACJI, added: "The most valuable thing we've got out of this competition is being involved on an international scale with some of the most prestigious professionals in our field, and being able to take away valuable words of wisdom from around the world."
With teams from Germany reaching the quarterfinals for the first time in the competition's nine-year history, this year was also marked by a high number of newcomers in the final rounds, including Denmark's Aarhus University, Hugh Wooding Law School in Trinidad and Tobago, and New York University School of Law.
Trinidad and Tobago student Ronald J. Daniels, described the competition as a "wonderful experience", adding: "It opens up your perspective of mediation on the international front, not just domestic mediation. It's going to give me a more balanced view as a problem solver in the legal arena. We in the Caribbean are gradually moving towards the concept of the modern attorney who is in effect a problem solver and not a legal adversary."
Representing ICC Mediation Competition newcomers Fatih University of Turkey, law student Muhammet Fethullah Kaplan agreed: "It's been a really good experience. Mediation in Turkey is a new topic, so it's been very educational, and beneficial for our careers. We've had fun and made good new friends in other countries. I'll never forget this event in my life."
For more information visit the ICC Mediation Competition
For more information about other amicable dispute resolution services visit ICC Arbitration and ADR