McGraw and Zoellick launch Payoff from the World Trade Agenda report
ICC and the Peterson Institute – in partnership with the United States Council for International Business and the Center for Strategic and International Studies – unveiled in the US a report showing that salvaging global trade deals would drive exports, generating 21 million jobs.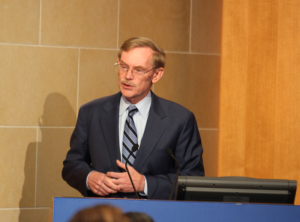 The report Payoff from the World Trade Agenda 2013, is the culmination of the Peterson Institute's recent study of the ICC Business World Trade Agenda and quantifies the potential benefits from this initiative's trade recommendations for creating jobs and driving economic growth.
Speakers highlighted the urgency of heeding the report's
findings, which show that rescuing parts of on-going Doha trade negotiations could boost global GDP by US$960 billion. Business must bring this to the attention of global leaders through the World Trade Organization (WTO) and G20 channels, ICC Vice-Chairman Harold McGraw III urged.
"We cannot wait for government," said Mr McGraw, who is Chairman, President and CEO of McGraw Hill Financial. "I am not here to disparage governments and leadership, but it's got to be business that steps up and plays a more meaningful role."
The World Trade Agenda was launched by ICC and the Qatar Chamber of Commerce and Industry in response to calls from WTO members and G20 leaders for fresh approaches from business following a 12-year impasse in multilateral trade negotiations.
The initiative has developed five recommendations that could achieve tangible outcomes by the end of 2013, to harvest gains from the WTO's Doha Development Round. These are:
Conclude a trade facilitation
agreement
Implement duty-free and
quota-free market access for exports from least-developed countries
Phase out agricultural export
subsidies
Renounce food export
restrictions
Expand trade in IT products and
encourage growth of e-commerce worldwide
Robert Zoellick, former president of the World Bank and former US Trade Representative, emphasized in his the keynote speech that the WTO faces structural challenges amid a global economy that is shifting power towards developing and emerging economies.
"The WTO's liberalization and market opening agenda has gotten stuck and it's gotten stale. So I think today's report, in a very practical way, points to specific opportunities to revitalize, to get some results and rebuild confidence in the WTO as a multilateral trade institution in the global economy," Mr Zoellick said.
The report, written by Gary Hufbauer and Jeffrey Schott, assesses the potential payoffs from seven agreements from the Doha Round that could be revived and advanced.
Business recommendations from this event will be delivered to G20 leaders and WTO ministers ahead of the next G20 Summit in Saint Petersburg and the WTO Ministerial Conference in Bali later this year.
View the event speakers
Download a copy of the Peterson Report
Download a copy of the ICC Business World Trade Agenda's business priorities