Global governance
Leading economists address global challenges at ICC forum
As the world anticipated important announcements regarding US Federal Reserve practices and awaits outcomes of critical elections in Germany on Sunday, ICC's Group on Economic Policy (GEP) has stressed the need for world leaders to keep markets open, avoid trade and investment protectionism in all guises and urged collaboration among nations to address global financial challenges.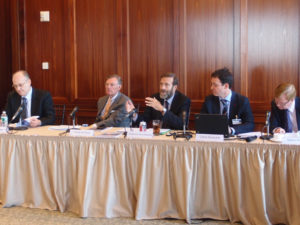 Hosted by ICC Chairman Terry McGraw and led by Guillermo de la Dehesa, GEP co-chairman and former Spanish Secretary of State of Economy and Finance, the first ever GEP forum to address major economic issues affecting the global economy, took place on 17 September kicking off a week of ICC-related activities in New York. It featured a high-level discussion among senior economists, including Paul Sheard, Chief Global Economist Standard & Poor's, Jose Juan Ruiz Gomes, Chief Economist Inter-American Development Bank, Guillermo Calvo from Colombia University, Kasemsit Pathomsak, CEO Merchant Partners Securities who joined 60 other experts to debate policies and measures needed to drive growth in key markets such as the US, Eurozone, Asia and Latin America.
Earlier this year, the GEP produced a set of key messages outlining to European policymakers a path out of the crisis. The forum concluded to follow on from this work by tackling issues such as access to finance, avoiding investment protectionism and the need for structural reforms to improve education and labour markets. The GEP will also look to hold a continuing series of high level forums in 2014, likely in Latin American and Asia.