Join the trade debate at the ICC World Trade Summit in Doha
Participants are encouraged to sign up early for the ICC World Trade Agenda Summit, taking place on 22 April 2013 in Doha, and be a part of history as business shapes concrete measures for helping to pull the global economy out of crisis.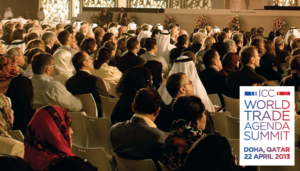 You will have the chance to share your perspectives on new global trade challenges and weigh in on recommendations for moving multilateral trade negotiations out of an 11-year deadlock and 'beyond Doha'.
Join us for this one-day Summit at the Qatar National Convention Centre and discover why CEOs and trade experts are supporting the ICC World Trade Agenda initiative.
"The ICC World Trade Agenda Summit in Doha is an unprecedented opportunity for members of the business community to help resolve the current trade deadlock," said ICC Secretary General Jean-Guy Carrier. "Business has been moved to take action by the potential impact of failed trade talks on both business and job creation."
Held on the first day of the ICC World Chambers Federation 8th World Chambers Congress, this high-level business summit is a major milestone for the ICC World Trade Agenda initiative, launched in 2011 by ICC in partnership with the Qatar Chamber of Commerce and Industry.
As part of this process, ICC is mobilizing international business – representing small, medium and large enterprises that produce the goods and services traded daily throughout the world – to define a practical and forward-looking multilateral agenda.
Final business recommendations coming out of the ICC World Trade Agenda Summit will be submitted to governments ahead of the next G20 Summit in Russia in September 2013 and the next WTO Ministerial Conference in Bali, Indonesia in December 2013.
Participants of the ICC World Trade Agenda Summit can contribute to concrete proposals for strengthening the rules-based multilateral trading system, reconfirming that global business is committed to the objectives of the World Trade Organization.
"The ICC World Trade Agenda Summit also offers all participants the opportunity to network with some of the world's top CEOs and trade specialists," Mr Carrier said. "There is also no doubt that they will benefit from the wide range of expert panellists from varied backgrounds."
Plenary sessions, featuring some of the world's leading business and trade policy figures, will highlight the substantial effort business is making to help governments create an effective 21st century rules-based multilateral trading system that generates economic growth and job creation.
Session topics include:
What power shifts in the global economy mean for world trade and business
What business needs from trade and WTO
Which way forward towards effective 21st century trade
What role business can play in building domestic political support for trade in a global economy