Global governance
New leadership roles at world's largest business organization
John W.H. Denton AO – currently CEO of the leading Australian law firm Corrs Chambers Westgarth – has today been elected as the next Secretary-General of ICC, the world's largest business organization.
Mr Denton is a legal expert and adviser on global policy, international trade and investment and infrastructure. His advice is sought by Australia's most prominent corporations and by governments and international bodies alike.
Mr Denton – who was unanimously elected today by ICC's World Council following an extensive search process – will succeed outgoing ICC Secretary General John Danilovich upon stepping down from his current role at Corrs Chambers Westgarth. Mr Denton previously served on ICC's Executive Board and in 2016 became the first Australian to hold the position of First Vice-Chair of the Paris-based organization.
ICC Chairman Sunil Bharti Mittal said:
"We are delighted to have secured John Denton as ICC's next Secretary General. John will bring to the role a wealth of experience from the world of business, law and international diplomacy. His engagement as ICC's First Vice-Chair over the last 18 months makes him uniquely placed to build on the recent achievements of the organization. I also take this opportunity to thank John Danilovich for providing exemplary leadership to our organization over the past several years."
Commenting on his election, Mr Denton added:
"I'm deeply honoured to have been elected as Secretary General of the International Chamber of Commerce. At a time when the dual threat of populism and protectionism still loom large, it's more vital than ever for business to have a seat at the table in global policymaking. ICC has a unique role to play in ensuring the views and experience of the global private sector are taken into account in key global forums – from the United Nations to the G20. I look forward to working with ICC's global network in over 100 countries to do just that."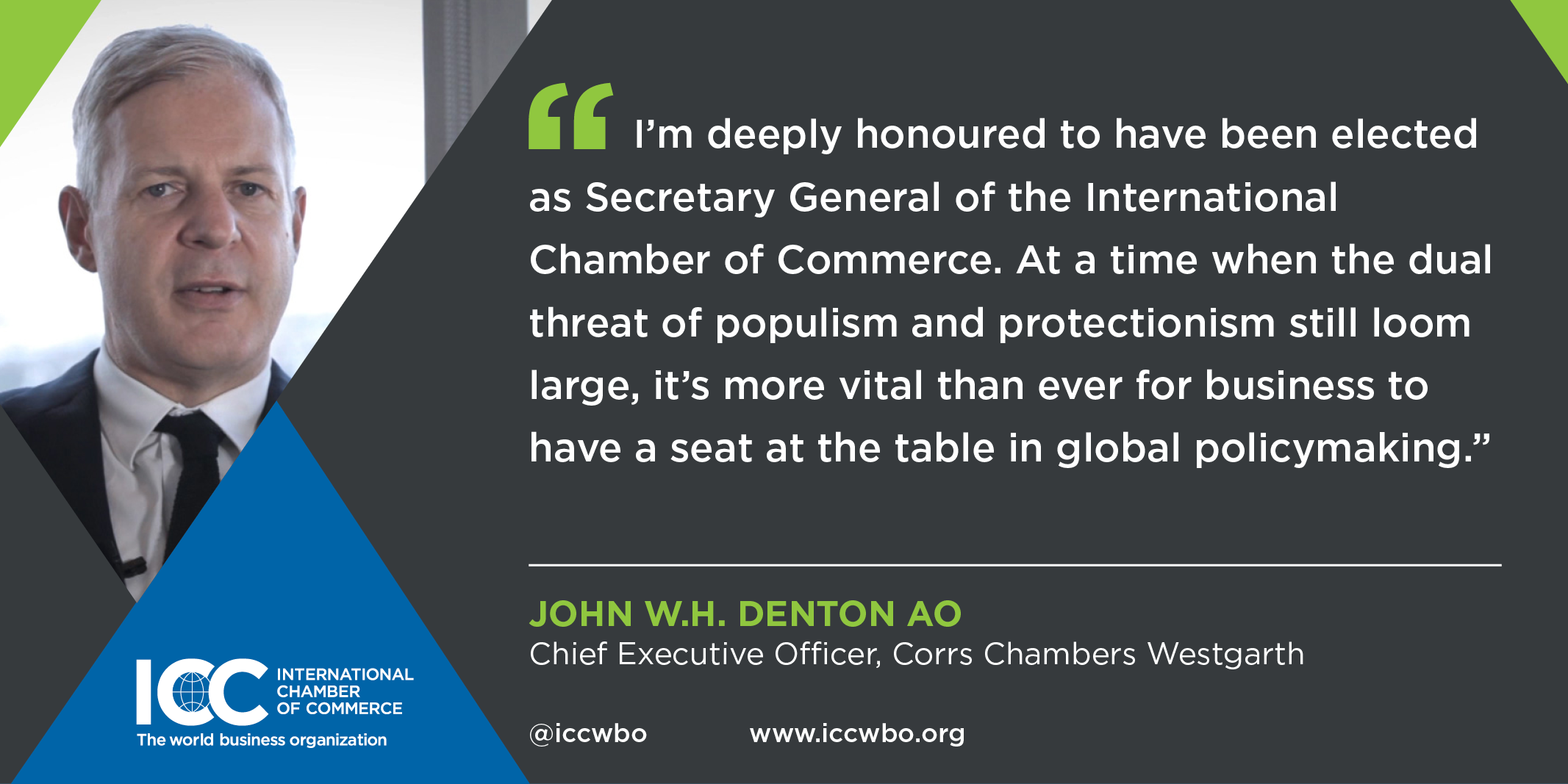 ICC Chairmanship transition
Paul Polman, CEO of Unilever, has also been unanimously elected as ICC's new First Vice-Chair. Mr Polman will succeed current ICC Chairman Sunil Bharti Mittal from 1July, 2018, who in turn will take the position of Honorary Chair.

Mr Polman is a globally recognised business leader and a pioneer in the field of corporate sustainability. Mr Polman served as a member of the UN Secretary General's High-Level Panel responsible for formulating the Sustainable Development Goal (SDGs) – launched in 2015 – and was subsequently appointed as a UN SDG Advocate responsible for promoting the "Global Goals".
Following his appointment, Mr Polman said:
"I am very much looking forward to joining the ICC Chairmanship. As the world's largest business organization, ICC plays a vital role in speaking up for the private sector and helping businesses to adapt swiftly and responsibly to current and emerging global challenges and drive progress against the Sustainable Development Goals."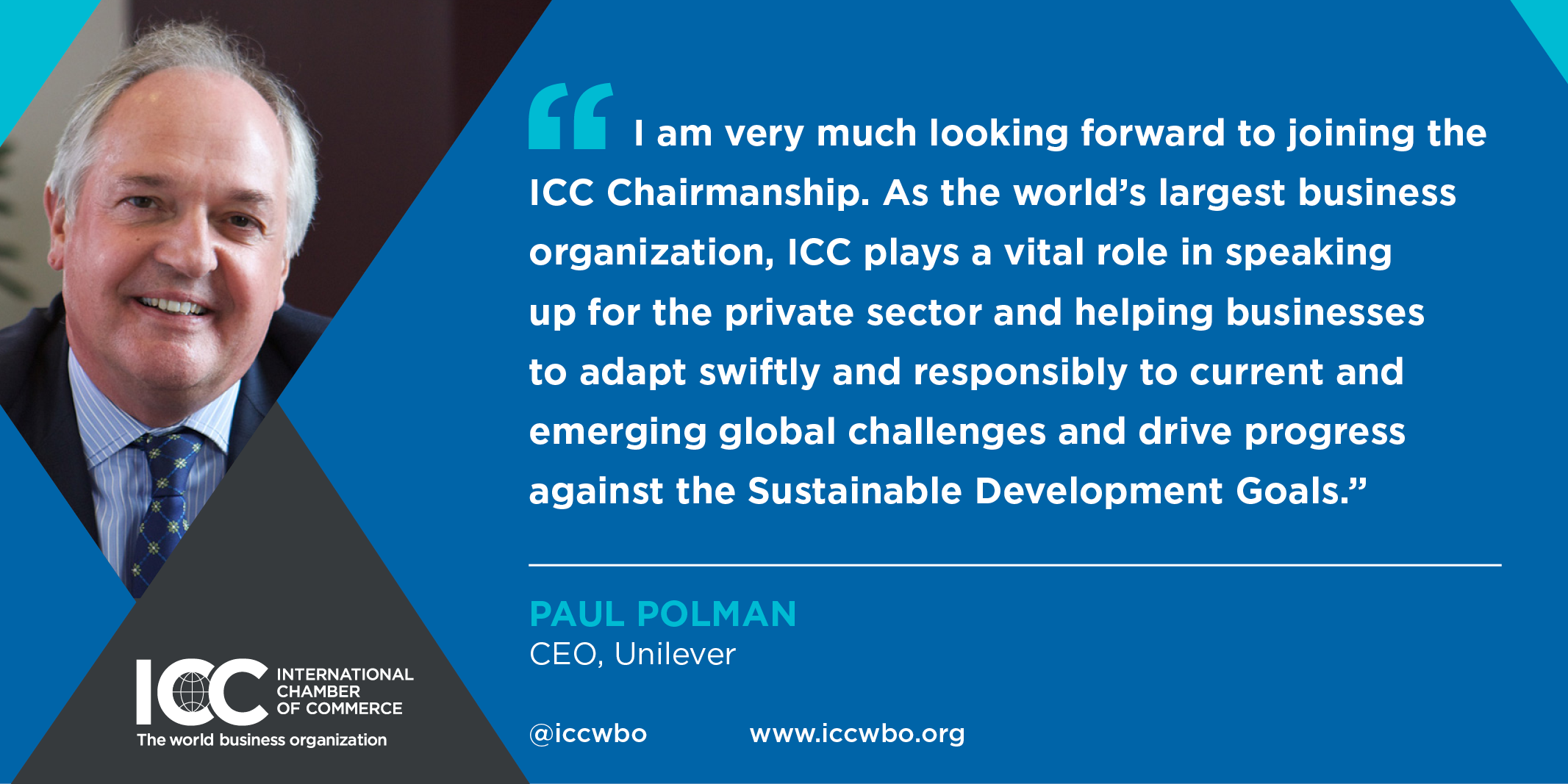 Commenting on Mr Polman's appointment, Mr Mittal said:
"I am delighted that Paul Polman has been unanimously elected as the next First Vice-Chair to succeed me as the Chairman to lead ICC. I am confident that Paul will be an outstanding successor to take ICC's agenda and objectives forward."