ATA Carnet
Indonesia paves the way for ATA System implementation
As part of Indonesia's move towards globalization, Indonesian Customs, jointly with ICC Indonesia and the Indonesian Chamber of Commerce and Industry, is preparing the implementation of the ATA System in Indonesia.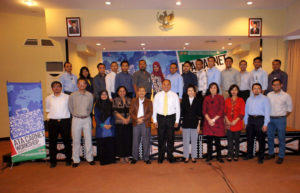 They aim to announce Indonesia's ratification of the Convention on the temporary admission of goods (the so-called Istanbul Convention) at the World Trade Organization Ministerial Conference, being held in Bali in December, as well as to implement the ATA Carnet System for the temporary duty and tax-free import and export of goods in Indonesia in early 2014.
Indonesia features among the 10 priority target countries where businessmen from countries already operating the system would like to be able to use their ATA Carnets. To meet these expectations, Indonesian governmental authorities and business organizations invited Ms Lee Ju Song, Director of ICC Asia, to conduct a two-day workshop and series of meetings in Jakarta on 1-5 July 2013 to understand the technical intricacies of the ATA System operation. They benefited from very practical and technical training, as well as from guidance on steps they should take to finalize their affiliation to the ATA Chain.
The ATA Carnet System – celebrating its 50th anniversary in 2013 – is jointly administered by the World Customs Organization, holding the international conventions on the temporary admission of goods, and the ICC World Chambers Federation (WCF), acting as the administrator of the ATA International Guarantee Chain. This chain comprises the chambers of commerce and other similar business organizations appointed in their respective countries to guarantee and issue Carnets.
ATA Carnets remove the need for exporters to provide Customs authorities with the otherwise necessary guarantees required for goods to cross borders. In the 73 countries where they are currently accepted, Carnets allow all kinds of goods to be temporarily transported. This usually pertains to professional equipment, commercial samples and material for trade fairs and exhibitions. Some examples of note include: a prototype solar car, World Cup yachts, Giorgio Armani apparel, McLaren Grand Prix cars, Munich Symphony Orchestra instruments, Australian Olympic horses, Harley Davidson motorcycles and equipment for the Bolshoi Ballet, Cirque du Soleil, BBC and CNN.
More than 175,000 ATA Carnets are issued yearly for thousands of customs transactions worth over US$ 25 billion.