Incoterms® rules
Incoterms® 2020 app gets makeover to enable traders worldwide
The International Chamber of Commerce (ICC) – the guardians and creators of the Incoterms® rules – has revamped its Incoterms® 2020 mobile app, making it more convenient and useful than ever.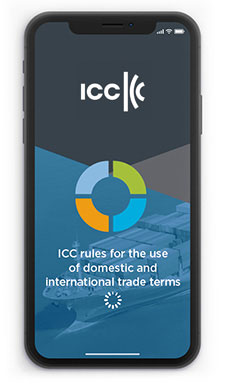 The Incoterms® rules, the international language of traders worldwide, are the gold standard when it comes to B2B trade in goods across borders and domestically. They are essential for creating B2B sale contracts and ensuring a smooth flow of goods while minimising risks involved in the transport and delivery process from sellers to buyers.
Since first launching in 2019, the Incoterms® 2020 app has been a vital tool for importers and exporters looking to keep up to date with the international trade terms, anytime, anywhere. But after 70,000 downloads and feedback from users around the world, the mobile tool has undergone a transformation to offer more information at the tap of a finger.
The go-to resource for anyone involved in B2B trade of goods has an all-new streamlined interface that makes it easier to understand which of the 11 Incoterms® rules to use and when.
With the new upgrade, users can expect to:
Browse in-depth descriptions of each of the rules
Access exclusive content only found on ICC's mobile app, including the introduction from our Incoterms® 2020 publication
Learn the do's and don'ts of the trade terms
Understand key differences between Incoterms® 2010 and Incoterms® 2020
Connect with ICC's global network of experts to access advice on the most pressing trade term questions
Discover podcasts featuring a range of professionals unveiling how the Incoterms® rules are used around the world
Shop and access free added resources to help traders work effectively
Commenting on the launch of the new app, ICC Director of Trade and Investment Emily O'Connor said:
"ICC's top priority was to create a resource that made the Incoterms® rules easy to access and, more importantly, understandable for everyone. The new ICC Incoterms® 2020 app has a widened scope compared with its previous version. The update carries a number of intuitive features that users have requested, making it even easier for them to interpret each of the 11 trade terms when conducting business, no matter where they are in the world."
To help ICC make business work for everyone, every day, everywhere, our app is available worldwide and completely free of charge. The app can be downloaded on any mobile device via the Apple App Store for iOS users or Google Play for Android users.
Download ICC's Incoterms® 2020 app today.