Mediation
ICC's 9th International Commercial Mediation Competition – application process now open
ICC has opened the online application process for another round of its International Commercial Mediation Competition.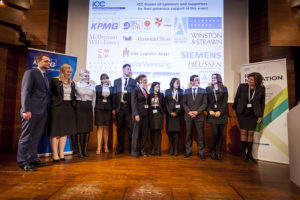 University students from law and business schools worldwide are invited to participate in the Competition to put their negotiation and mediation advocacy skills to the test by applying the ICC Mediation Rules in mock cases conducted by some of the world's leading professional mediators.
The Competition is ICC's biggest educational event attracting over 500 participants from all around the world every year. Participants include competing university student teams along with their coaches as well as professional mediators who participate in the Competition on a voluntary basis.
The 9th ICC International Mediation Competition will take place from 7 – 12 February 2014 as part of ICC's Mediation Week. ICC's Mediation Week will for the first time kick off with an International Mediation Round Table which will take place on the first day, 6 February 2014.
University teams wanting to take up the challenge and professional mediators wishing to participate have until autumn 2013 to apply online.
For more information on how to take up the mediation challenge or to view the Competition video, visit the 9th ICC International Mediation Competition webpage.