ICC urges private sector engagement to set sustainable development goals
ICC participated in the first session of the UN's General Assembly's Open Working Group (OWG) on Sustainable Development Goals (SDGs), at the UN headquarters in New York on 14-15 March 2013 to launch the intergovernmental process of developing a set of SDGs.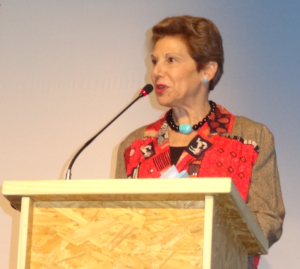 ICC UN Permanent Representative Louise Kantrow addressed the UN General Assembly and delivered an intervention on behalf of business and industry, the scientific and technological community, and local authorities to emphasize the critical importance of engaging all stakeholders and major groups, particularly business, to ensure proper design and successful implementation.
Members of the OWG were named after the adoption of a General Assembly resolution earlier in January which concluded extensive negotiations among member states to determine which countries should occupy the 30 seats.
Ms Kantrow said that each goal should be well defined, underpinning all three dimensions of sustainable development. "Enabling conditions for sustainability will need to be front and centre, building on a foundation of economic growth, improved quality of life, good governance, inclusion and strong institutions as key drivers of development."
Ms Kantrow encouraged member states to build on recommendations that came out of the Rio+20 Conference in 2012 and to make the best use of the collaboration mechanisms, created through the Rio+20 process, through enhanced participation of major groups and other stakeholders in line with the multilevel and multistakeholder model endorsed by 'The future we want'.
Download joint statement addressed by Louise Kantrow
Download Rio+20 outcome booklet: The future we want
For more information about the working group visit UN General Assembly Open Working Group
For more information about the SDGs visit Sustainable Development Goals
Learn more about ICC's activities on sustainable development by visiting the ICC Commission on Environment and Energy