Mediation
ICC to host 30th anniversary edition of Joint Colloquium on International Arbitration
The International Court of Arbitration of the International Chamber of Commerce will host the 30th anniversary edition of the American Arbitration Association (AAA), International Chamber of Commerce (ICC) and the International Centre for the Settlement of Investment Disputes (ICSID) Joint Colloquium on International Arbitration in Paris, France on 6 December 2013.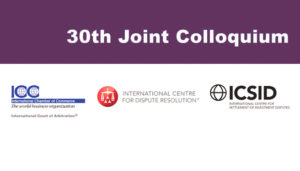 Featuring 20 speakers from North America, Europe and Asia, the one-day event will bring participants up to speed on the institutional developments of the three partner arbitral institutions and will be followed by four panel discussions on a range of topics pertinent to the international arbitration community.
"Since 1983, ICC has joined forces with the American Arbitration Association and the International Centre for Settlement of Investment Disputes to stage colloquia, the principal purpose of which is to discuss and debate important and topical issues in international commercial arbitration, not least those of particular significance to the arbitral institutions," said John Beechey, President of the International Court of Arbitration.
The 30th anniversary event includes discussions ranging from the enforcement of arbitration agreements and awards through investment arbitration to interim measures and the role of the emerging arbitrator and the increasing risk of exposure of institutions and arbitrators to post-award lawsuits.
India Johnson, President and CEO of AAA New York said: "This prestigious gathering, featuring a unique roundtable on commercial and investment arbitration with state officers from across the globe, should not be missed."
The colloquium will be held in English and is open to practising lawyers, corporate counsel, arbitrators, mediators, business professionals and academics.
"This is a perfect opportunity for lawyers and arbitrators from around the world to keep pace with the challenges and opportunities of international arbitration today," said Meg Kinnear, Secretary General, ICSID, Washington DC.
Colloquium participants are eligible for MCLE and CLE credits, CPD hours, as well as CNB hours for Paris Bar.
To register visit ICC Events & Trainings