Business & UN
ICC Secretary General meets with leaders of key international organisations to discuss global response to COVID-19
International Chamber of Commerce (ICC) Secretary General John W.H. Denton AO met with leaders of international institutions to address the economic and social consequences of the COVID-19 pandemic.
During his trip to Geneva, Mr Denton held meetings with the Director-General of the World Health Organization (WHO), Tedros Adhanom, the Director-General of the World Trade Organization, Roberto Azevedo, and the Director-General of UN Geneva, Tatiana Valovaya. The meetings considered ICC's set of COVID-19 policy responses, including the Save Our SMEs campaign, as well as the need to ensure equitable and rational access to vaccines.
Equitable and rational access to tests and vaccines
After months of virtual collaboration, Mr Denton and Dr Tedros met for the first time in-person. Dr Tedros expressed appreciation for ICC's collaboration on vaccine access, the ICC business survey, and amplification of WHO information on COVID-19.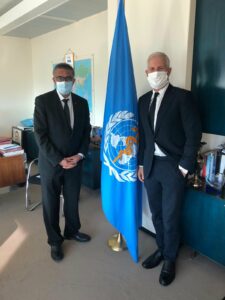 Both leaders expressed concern about rising vaccine nationalism and the proliferation of protectionist trade measures on essential medical supplies. They agreed that global cooperation was required to ensure an equitable and rational process for providing access to a vaccine. Mr Denton offered ICC's strong support for the WHO's ACT Accelerator and the COVAX initiative, which aims to scale-up vaccine production and rapidly deliver doses for at least 20% of the world's population. COVAX is co-led by the WHO, GAVI, and the Coalition for Epidemic Preparedness Innovations.
Mr Denton also updated Dr Tedros and his advisors on developments related to ICC AOKpass, a risk mitigation tool that allows cross-border travellers to present digitally authenticated and secure medical records to border authorities. The platform is backed by ICC, International SOS, and Swiss testing lab, SGS Group. In recognition of the re-opening of economies and cross-border travel, Dr Tedros asked for his technical team to receive regular updates on the platform and looks forward to engaging with them in the future.
Maintaining rules-based trade in times of crisis
In addition, Mr Denton met with outgoing WTO Director-General, Roberto Azevedo, who will step down from his post on 31 August after seven years. During his tenure, Mr Azevedo worked together with ICC to improve business engagement at the WTO through joint initiatives, such as the Global Dialogue on Trade and Trade Dialogues. As part of ICC's centenary celebration, Mr Azevedo delivered an inspiring keynote address on re-establishing trust in the multilateral trade system and fending off calls for protectionism.
Mr Denton congratulated Mr Azevedo on his successful tenure at the WTO and his recent appointment to PepsiCo. With the selection process for the next WTO Director-General underway, Mr Denton reaffirmed ICC's commitment to work with Mr Azevedo's replacement to make trade work for people and planet.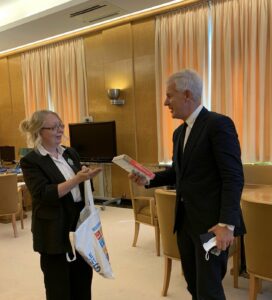 Building a resilisent and sustainable recovery for all
Finally, Mr Denton discussed the importance of building public and private sector collaboration for addressing the long-term consequences of COVID-19 with UN Geneva Director-General Tatiana Valovaya. Mr Denton discussed ICC's strong-ties with Geneva-based international institutions, as well as continued private sector collaboration on the implementation of the UN Sustainable Development Goals. As part of the meeting, Ms Valovaya invited Mr Denton to address Geneva-based UN missions on his support for multilateralism. Both leaders will continue to work together to strengthen multilateralism and expand dialogue between national governments, businesses, and civil society.