Business & UN
ICC Secretary General John Danilovich reflects on four transformational years at ICC
John Danilovich, a former US Ambassador and past Chief Executive Officer of the Millennium Challenge Corporation, steps down from his role as Secretary General of the International Chamber of Commerce (ICC) at the end of April.
In March, Mr Danilovich was awarded the ICC Merchants of Peace Award for his significant contributions to promoting peace, prosperity and international cooperation through international trade and investment.
We spoke to John about his four-year stretch at the helm of the world business organization.
What compelled you to become Secretary General of the International Chamber of Commerce?
For forty years, in both the shipping industry and in government, I have passionately believed international trade and transnational investment to be the dynamic drivers of economic growth, prosperity and inclusion.
The critical role of free trade in promoting vibrant economies was made even more evident to me when I served as US Ambassador to Costa Rica from 2001–2004 and subsequently as Ambassador to Brazil from 2004–2005.
These in-country experiences, combined with my time as CEO of the Millennium Challenge Corporation, and now as Secretary General of the International Chamber of Commerce, brought home a realization that so much of what has become our accepted way of life is the result of an open, global trading system.
Costa Rica was the lead country among the centrals negotiating the Central American Free Trade Agreement (CAFTA). CAFTA, encompassing seven countries and over 375 million people, was essentially an extension of NAFTA and, after the usual slugfest that accompanies trade negotiations, resulted in major economic benefits to all participating partners.
Brazil is a major global economic force and is an essential market for most of the Fortune 500 companies. The US-Brazil relationship itself underpins half a million jobs in the US. To cite just one example, over 400 component manufacturers in the US depend on business from Embraer – the Brazilian aircraft manufacturer.
Then, in 2013, members of the World Trade Organization (WTO) agreed to a "Bali package" for lowering trade barriers including the historic multilateral Trade Facilitation Agreement (TFA). ICC played a critical role in the creation of the TFA and also in its subsequent ratification and implementation. WTO Director-General Roberto Azevedo expressed his appreciation to ICC throughout this process.
The challenge was then on to re-establish ICC's credibility as the voice of global business and ensure ICC's engagement with intergovernmental organizations and other major forums.
We have further enhanced ICC's relationship with the WTO, through engagement on a broad spectra of initiatives.
Tangible results of this relationship began to emerge in 2015 at the WTO's 10th Ministerial Conference when ICC launched the Global Alliance for Trade Facilitation with several major institutional partners. Then, in 2016, we launched a series of WTO Trade Dialogues. These on-going discussions aim to voice business concerns about slowing trade growth and to create a platform to discuss current trade issues with WTO members, including business recommendations on a proposed WTO agreement on e-commerce. More recently, in 2017, ICC led the first ever official Business Forum alongside the WTO Ministerial in Buenos Aires. DG Azevedo felt that our initiative was so successful that a Business Forum will henceforth be incorporated into all future WTO Ministerials. At the same time, DG Azevedo and I launched the ICC WTO Small Business Champions initiative to help deploy practical solutions to some of the barriers that MSMEs face in doing business across borders.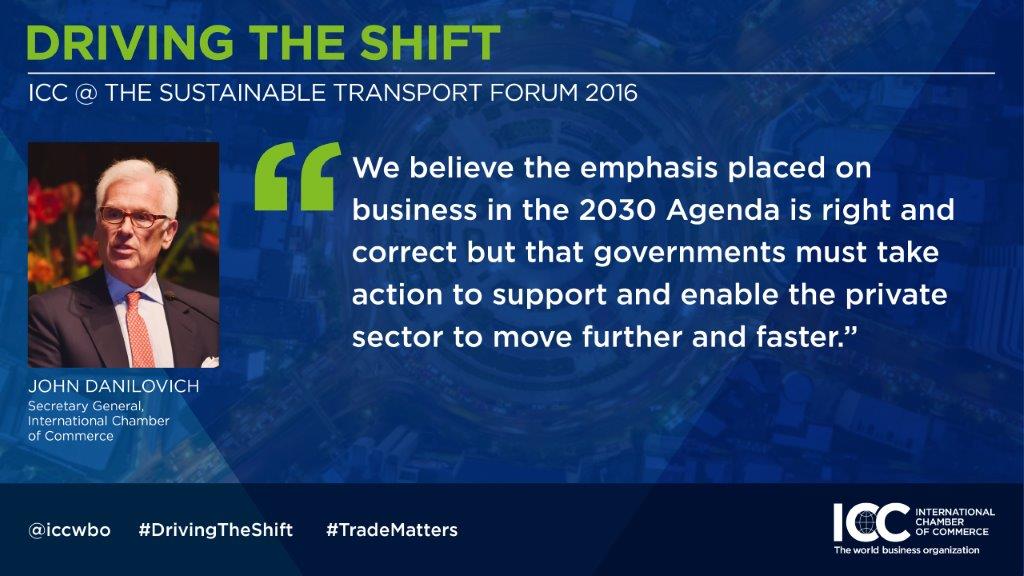 Can you recall one of the first challenges or priorities you faced when you first took over?
In March 2015, ICC launched the ICC Academy in Singapore. The Academy was a concept that had languished for some time but its timeliness and value add for the organization seemed obvious to me. Initially supported by funding from IE Singapore, the ICC Academy is now acknowledged as an important professional educational tool, narrowing skills gaps and providing e-learning and online certification for trade professionals worldwide. It has a vital role to play in enabling small businesses in developing countries to access global markets.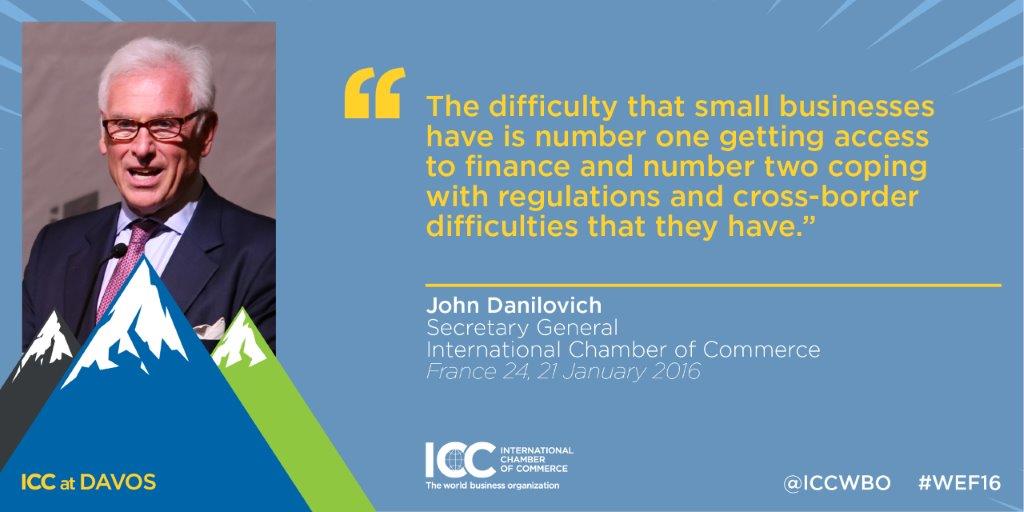 Has your outlook on trade changed in any way over your four years at the helm?
The work that was undertaken to strengthen business engagement with the WTO was challenging against the backdrop of rising protectionism and growing anti-trade sentiment in the media and public opinion.
When I was first approached to become Secretary General of ICC, I envisaged my prospective tenure as the head of the world's largest business organisation in a very different political context to the one we face today.
At that time, the case for global economic integration was clear and, what's more, adopted by consensus. Governments focused their efforts on expending and accelerating trade growth as a means to build their economies. Like many others, I failed to see the wave of anti-globalisation and populist sentiment coming our way. The global trading system needs to be more inclusive and we need to address that, and other shortcomings, rather than retreat into protectionism, nationalism, or xenophobia – a proven recipe for economic and social disaster. That's why, in 2016, we launched our global #TradeMatters campaign to promote a more balanced and evidence-based debate on the role of trade in today's economy. Through #TradeMatters we are recognizing that the global trading system is by no means perfect but that open markets are still the best tool we have for increasing global welfare.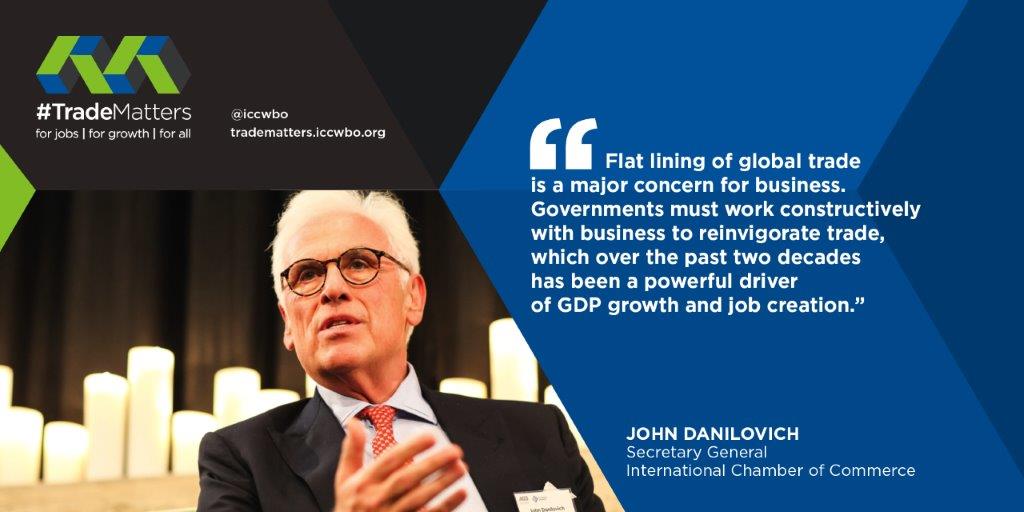 There have been many achievements during your time at ICC but is there one that stands out as something you are particularly proud of?
After a challenging campaign process, the United Nations granted ICC Observer Status at the General Assembly in December 2016 – a truly game changing acknowledgement of the international credibility that ICC has achieved and a significant milestone in our 100-year history, with huge implications for our ability to shape and influence global processes. We pulled out all the stops at every level imaginable to achieve this goal and our global network also kicked in big time in this effort – sometimes in the most peculiar way!
ICC is now the only business organisation in the world with a direct and independent voice in the world's greatest international forum.
Additionally, ICC was the lead business organization at the landmark Paris Climate Conference, (COP21) in 2015. ICC urged governments to reach an ambitious climate deal that would enable businesses to do more to meet climate challenges and to pursue opportunities in the new climate economy. We have also sought to enhance private sector engagement with the United Nations with particular emphasis on mobilizing business support and commitments to meet the Sustainable Development Goals (SDGs). The SDGs merge with the international business agenda, and that it why I have always insisted that the SDGs also be referred to as the Business Development Goals (BDGs).
Last July in the UN General Assembly hall, the largest room at UN headquarters in New York, I spoke to over 1,000 business leaders who were taking part in our co-hosted SDG Business Forum to showcase business action to support the SDGs. I chaired the event, the largest business event to ever have taken place at the UN – it was a WOW!! – a clear indication of how far the ICC has come. Our credentials are now very much established in the UN system as the voice and convener of global business.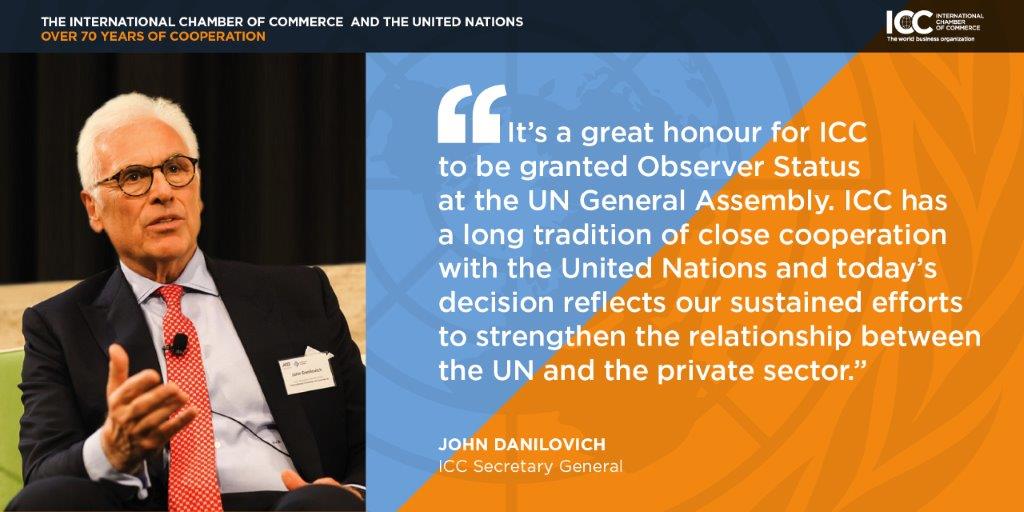 How has the organization changed in your time at ICC?
We have successfully driven forward a number of strategic initiatives which have expanded ICC's profile, credibility and global footprint.
Our geographical presence has been significantly enhanced over the last four years. I have worked closely with the President of the ICC International Court of Arbitration to oversee the geographical expansion of the Court through the establishment and growth of new case management offices in Hong Kong, New York, Sao Paulo and Singapore. Local service delivery is vital for the users of our arbitration services and the Court's expansion has helped maintain our market leading position through a period of growing competition.
When you couple the growth of the Court – the bedrock of the organisation – with our Observer Status at the UN, the ICC Academy, and our enhanced cooperation with the WTO, it's clear that we are now very much established as the world's premier business organisation. As a leading political figure said to me recently: "ICC is now a force to be reckoned with".
It's been tremendous to see the response of member companies, governments and international organisations to our growth.
And I'm confident that this upward trajectory will continue in the years ahead. We are already close to establishing a new ICC Asia-Pacific Hub with the support of the Singapore government – which will give the organisation a much stronger presence in the world's most dynamic trading region.
What will you miss about your time at ICC?
That's an easy one! It has to be the staff and members of our network who make ICC the unique organization it is. So many nationalities and cultural backgrounds; there's always something to discuss. The passion of the people working for ICC is truly an inspiration. It's been an honour.