ICC publishes guide to letter of credit law in China
ICC's publication entitled The Law of Letters of Credit in China: Commentary and Materials on the Chinese Supreme People's Court's Judicial Interpretations of Letters of Credit (LC) offers immense help to anyone doing export/import business in China.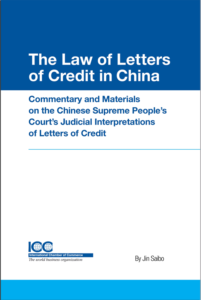 The publication, based on over 500 court case decisions, provides detailed commentary, in-depth explanations and critical analyses that help shed light on how Chinese LC disputes are resolved and the judicial interpretations that define China's LC system.
"Although China has not yet enacted any LC law, over the past 20 years, the Supreme People's Court has promulgated a series of judicial interpretations, provisions and meeting minutes that combine to form the legal authority on LCs in China," said Li Jian, General Counsel of the Export-Import Bank of China. "The present work is an indispensible guide for law, trade and banking professionals trying to understand and apply these judicial interpretations."
The publication's author Jin Saibo, who was involved in the eight-year drafting process of The Supreme People's Court of China's LC Judicial Interpretations, structured the book to cover such critical issues as:
Conformity of China's LC system with international practices, i.e International Standard Banking Practice
Consolidation of disputes concerning LCs and underlying practices
Statutory limitations of action
Recovery for damages
Reasonable legal fees
An expert in the field, Mr Jin also has more than 15-years experience in practice and has given more than 100 lectures and trainings in China.
The publication is available in English from the ICC Bookstore.
Sign up for Mentor 600, ICC's online course on letters of credit and UCP 600 rules
Sign up for DC Master, ICC's advanced online instruction and training in letter of credit practice for experienced documentary credit professionals