ICC and partners in search for businessworthy candidates
The International Chamber of Commerce (ICC) and the Business for Peace (BfP) Foundation are currently seeking candidates for the 2019 Oslo Business for Peace Award. The prestigious award recognises exemplary leaders who promote socially responsible and ethical business practices, benefitting both business and society.
This edition marks the Oslo Business for Peace Award's 10th anniversary. Today the accolade is recognised as the business world's highest distinction for leaders who are positively changing the face of business.
"ICC is honoured to partner with the Business for Peace Foundation. At ICC, we believe that responsible business is the only way forward for business. ICC has high expectations for the way companies, and their leaders, conduct themselves," said ICC Secretary General John W.H. Denton AO. "We all have a part to play in tackling today's most pressing social and environmental challenges. The best business leaders are already engaged in developing solutions to those challenges."
Assessed on three criteria, candidates must be good role models to their peers and society, trusted by stakeholders and stand out as an advocate of responsible business practices. An independent committee comprising Nobel Prize laureates in peace and economics will then select recipients from a pool of nominees put forward from ICC and other BfP Foundation global partners—Principles for Responsible Investment, United Nations Development Programme and United Nations Global Compact.
"The challenges we face as a society require us as business leaders to truly step up – through our values and through our business models – to enable sustainable and innovative solutions for the future," said Business for Peace Foundation Founder and Chair Per L. Saxegaard. "The Oslo Business for Peace Award Honourees are excellent role models in this regard and their stories deserve to be shared and celebrated."
Previous Award recipients include business women and men leading small or large enterprises in emerging and developed economies alike around the world. Previous winners include Sarah Beydoun, Founder and Creative Director of Sarah's Bag; Marilyn Carlson Nelson, Co-CEO of Carlson Companies; Edgar Montenegro, Founder and CEO of Corpocampo; Elon Musk, Founder and CEO of Tesla and SolarCity; Martin Naughton, Founder of Glen Dimplex Group; Paul Polman, CEO of Unilever and Chair of ICC; and Durreen Shahnaz, Founder and CEO of Impact Investment Exchange.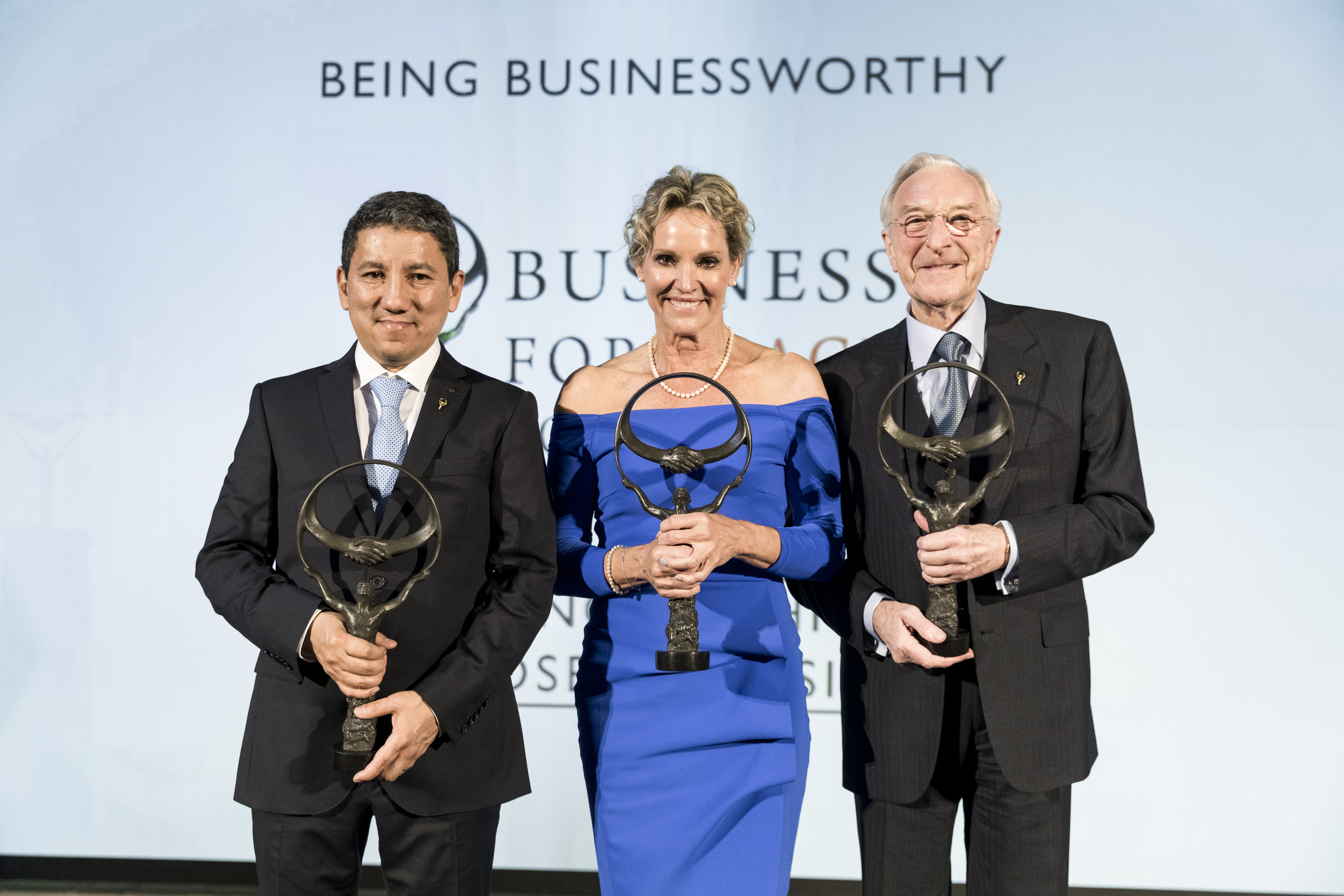 "Business can be crucial in identifying issues and challenges in their communities— both socially and economically. We as business leaders have the opportunity to leverage our resources and respond quicker than government organisations," said 2018 BfP Honouree and President and CEO of TTI Global Lori Blaker. "We should be leading the way, demonstrating how to get things done, and in sending out [that] message that we can be a great business, but with a heart as well."
ICC is set to receive nominations from its 93 national committees and global network of chambers of commerce. For those wishing to submit independent nominations, the deadline to participate is 21 October 2018.
For more information about the award and how to participate, please email the ICC World Chambers Federation or visit directly the Business for Peace Foundation website.
Award winners are slated to be announced on 20 March 2019 and will be presented with their awards on 15 May 2019 during a public ceremony held in the Oslo City Hall.