Chambers services
ICC names three new Banking Commission Technical Advisors
ICC today announced the appointment of three new technical advisors for its Commission on Banking – a leading global policy and rule-making body for the banking industry known worldwide for its trade finance products and services including Uniform Customs and Practice for Documentary Credits, the most successful privately drafted rules for trade ever developed.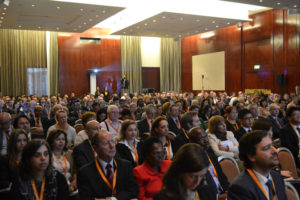 The technical advisors are:
Nicole Keller, Vice-President, KfW IPEX-Bank, Financial Institutions Trade & Commodity Finance
David Meynell, Owner of TradeLC Advisory
R.V. Balasubramani, Director, Innovative Global Solutions-GBITC
When facing the numerous and often complex problems in establishing documentary compliance and the interpretation of rules and document content, banking professionals regularly turn to ICC for guidance.
Often cited by courts to assist in dispute resolution, ICC Banking Commission Opinions are an important resource for lawyers, bankers, judges and other professionals and scholars in the industry. Today, the ICC Banking Commission provides official opinions on the interpretation of the long-established Uniform Customs and Practice for Documentary Credits (UCP), Uniform Rules for Collections (URC), Uniform Rules for Demand Guarantees (URDG) and Uniform Rules for Bank-to-Bank Reimbursements (URR). In addition, the newly approved Uniform Rules for Forfaiting (URF) and Uniform Rules for Bank Payment Obligation (URBPO) are now the object of official opinions.
"The ICC Banking Commission has considerably developed its rule-making activities in recent years. As a result, we need to consolidate our advisory function for these newly-established standards and be in a position to develop our standard-setting initiatives ever further," said Thierry Senechal, Senior Policy Manager of the ICC Banking Commission. "The three new technical advisors will not only administer official opinions but also answer occasional technical and educational queries received on an informal basis."
The introduction of the new technical advisors is in line with the commission's objective to remain a relevant and recognized authority within the ever-evolving trade finance industry.
For more information, visit the
ICC Banking Commission
View the full biographies of the new technical advisors