Arbitration
ICC MoU with Shenzhen Court of International Arbitration extends facilities to arbitration users
The International Court of Arbitration of the International Chamber of Commerce (ICC) has signed a memorandum of understanding with the Shenzhen Court of International Arbitration (SCIA) paving the way for users of ICC Arbitration to use SCIA's hearing facilities, located in Shenzhen Special Economic Zone, at a preferential rate.
Alexis Mourre, ICC Court President and Xiaochun Liu, President of SCIA, signed the memorandum in Shenzhen on 17 October 2017.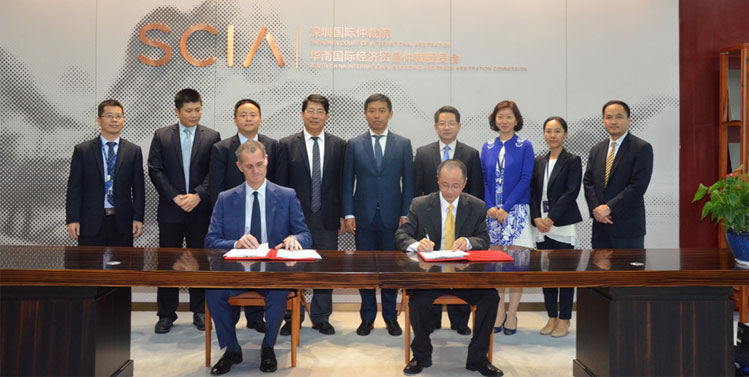 Mr Mourre said: "This MoU sets the basis for a solid and long-term cooperation between our two institutions. It is a very important step forward in our efforts to expand our presence in south China in order to better serve the needs of parties using arbitration and mediation, in particular in the context of the Belt and Road programme, whose importance for global commerce cannot be understated."
Under the terms of the memorandum ICC and SCIA will hold joint conferences to promote the use and benefits of international arbitration as an attractive alternative to litigation for commercial disputes. The memorandum also forms the foundation for continued discussion and cooperation between the two Courts.
ICC became the first non-Asian headquartered dispute resolution institution to establish an office in mainland China in 2016. It has since been actively promoting its dispute resolution services to Chinese users, particularly in the context of the One Belt One Road Initiative, which includes investments amounting to trillions of dollars in sectors where ICC has unrivalled dispute settlement experience and expertise such as infrastructure and energy.
In 2016 ICC filed 41 cases from mainland China featuring 15 claimants and 26 respondents.