ICC Merchants of Peace recognised
ICC Executive Board member Sheikh Khalifa Bin Jassim Bin Mohammed Al Thani and former Board Member of ICC UK Kenneth Gardener have become the latest recipients of the prestigious ICC Merchants of Peace Award.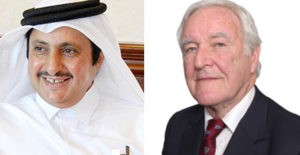 Established by the world business organization in 2012, the Award recognizes members of the business community who have made a significant contribution to advancing ICC's mission to promote peace and prosperity through international trade and investment.
Award recipients are chosen by the ICC Chairmanship following nomination from the ICC global network of national committees, the World Chambers Federation, individual companies and the ICC Secretariat.
The Award is named after ICC founders, known as the "merchants of peace", who recognized the powerful role trade and investment could play in fostering peace and prosperity among nations.
Awarding the ICC Merchants of Peace medal to the two recipients on the side-lines of ICC governing body meetings in London last week, ICC Secretary General John Danilovich said: "With their commitment to ICC's founding mission of peace and prosperity through world trade Sheikh Khalifa and Ken Gardener are true Merchants of Peace and thoroughly deserving of this Award."
Sheikh Khalifa Bin Jassim Bin Mohammed Al Thani
A long-standing member of the ICC family, Sheikh Khalifa is a member of the ICC Executive Board, Chairman of ICC Qatar and a member of the ICC World Chambers Federation General Council.
Sheikh Khalifa is also the Chairman of the Qatar Chamber of Commerce and Industry. Under his leadership, the Qatar Chamber has achieved numerous successes, welcoming global trade and investment and providing a wide range of services and support to the local and international business community.
Sheikh Khalifa was instrumental in supporting the launch the ICC World Trade Agenda initiative in 2012 which helped secure the first multilateral trade agreement in two decades in 2013.
Kenneth Gardener
Alongside senior roles in a range of international corporations, Mr Gardener has worked with ICC for almost half a century in a number of important roles.
He was a member of ICC UK's Governing Body for over 40 years – for much of that time as its Honorary Treasurer, finally stepping down from that role in 2016.
Mr Gardener was instrumental in the development of ICC's first set of principles for international investment – a landmark product which has shaped government policy and corporate behaviour in the years since.
Mr Gardener also served as a member of ICC's World Council and the organization's Finance Committee.