Banking & finance
ICC is launching its 10th global survey on trade finance. Here's why your bank should participate.
It's once again that special season, where banks from around the world voice their experience and expertise in the ICC Banking Commission flagship trade finance survey.
The upcoming report, to be released in April 2018, will be the 10th edition of ICC's global survey, which informs trade finance practitioners of industry trends and developments, supports their strategic and operational business decisions and allows the wider economic community to gauge global trade expectations.
Previously known as "Rethinking Trade & Finance", the 2018 report takes a more dynamic, forward-looking and solution-oriented approach under the new title: "Global trade—securing future growth".
The study covers banks' traditional trade finance and supply chain finance activity and comprises 38 questions in two separate sections, on strategy and operational aspects. Register here to view the questions, respond on behalf of your bank or invite other colleagues to participate.
Here's why your bank should participate:
1. Turning questions into answers
The ICC global survey asks the most relevant questions at a turning point for trade finance and banking. Raising the topics and identifying the answers can help provide clarity and guide decision-making internally.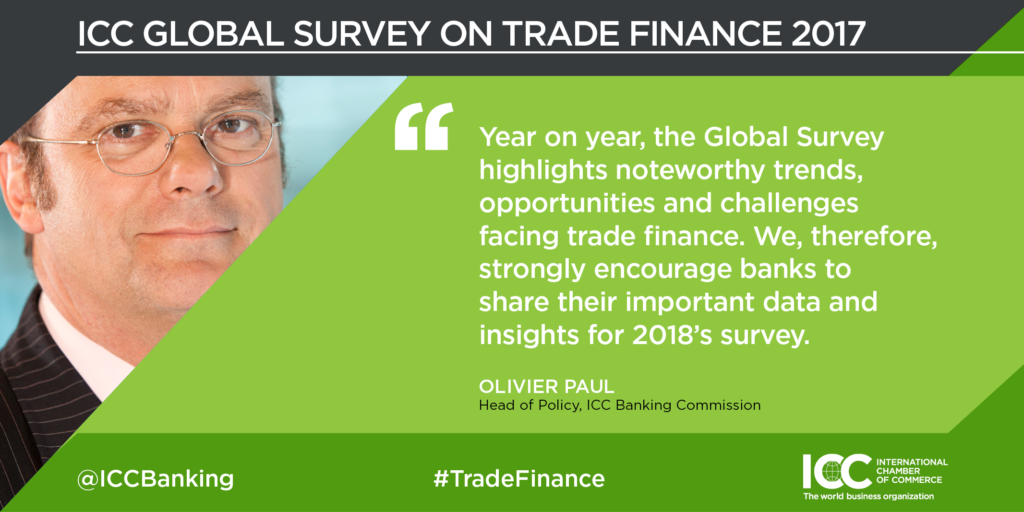 2. Your contribution matters
By participating in the ICC survey, you can include your voice in the world's most comprehensive study on trade finance and supply chain finance developments, helping make our conclusions as representative as possible.
Aggregated results from the study will be published, accompanied with substantive analysis and interpretation of trends at global and regional level.
3. See where you stand
By answering the same questions as the many other participants throughout the world, you can assess your banks' trade finance and supply chain finance status.
Consulting the market trends reported in the final study allows participants to compare their bank's position on a number of key operational and strategic elements.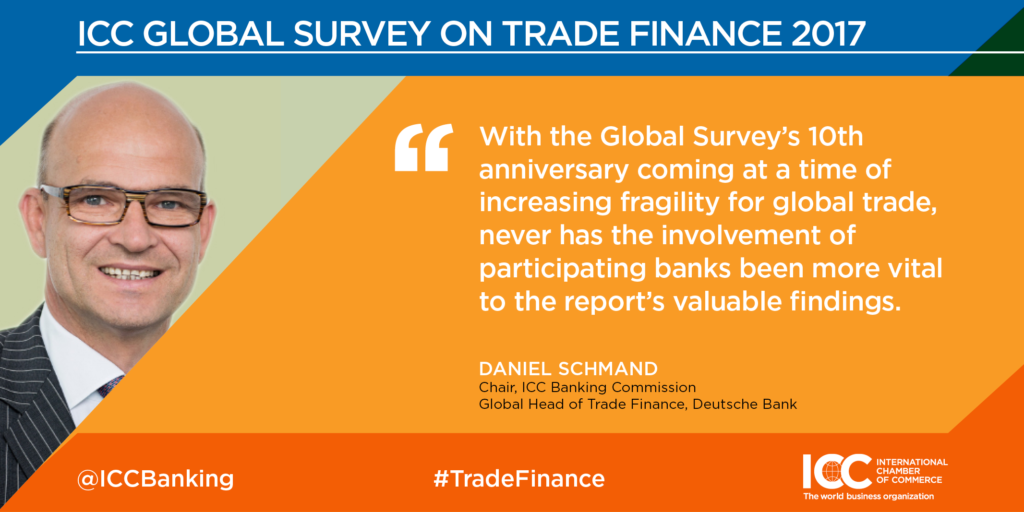 The deadlines
To participate in the ICC Banking Commission's Global Survey on Trade Finance, answer the questions by 16 February 2018.