Climate change
ICC launches GreenUp Australia to improve fire resilience and replant trees on a national scale
The International Chamber of Commerce (ICC) announces the creation of GreenUp Australia, a business led initiative to facilitate reforestation projects across Australia.
In the wake of Australia's devastating bushfires, ICC is doubling down on its commitment to protecting and preserving nature. Launched in Canberra, GreenUP Australia is a business led initiative that will mobilise efforts to improve fire resiliency in Australia and inspire the mass replanting of tress. Led by ICC, the project aims to become the largest fire resilient biodiverse native reforestation and carbon sequestration project in the world. ICC carbon offsets aligned with the UN Sustainable Development Goals (SDGs) will be sold to institutional investors, corporate off-setters and consumers.
"The devastating bushfires that brought destruction to my country – Australia – serve as a stark reminder that business, government, and civil society must unite to protect and restore nature," said Mr Denton. "GreenUp Australia will harness the power of digital technology to support large scale reforestation projects that will protect our communities, livelihoods, and economies."
ICC Secretary General John W.H. Denton AO was joined by Andrew Barr, Chief Minister of the Australian Capital Territory (ACT), and Dorjee Sun, CEO and co-founder of Perlin, for the official launch of GreenUp Australia. The launch marked the commencement of reforestation pilot projects across Australia. Leveraging ICC's global network, future GreenUp initiatives could service other fire-damaged forest locations, like California, Russia, Brazil, and Indonesia.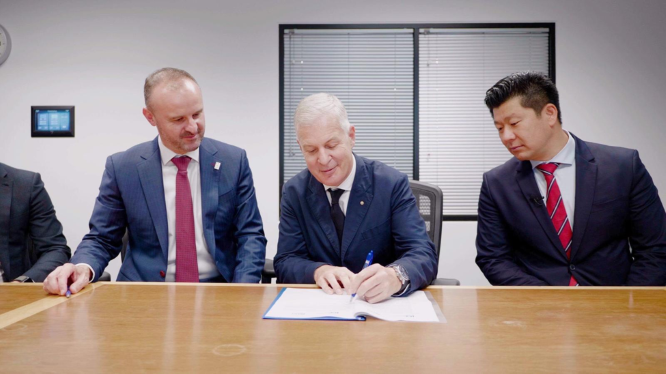 The initiative will be recorded on a public blockchain and utilise tokenised smart contracts to track the future of forestation and farming in Australia. The initiative will offer a mobile web mapping application that will allow carbon emitters to locate and track their emissions. ICC is working with ACT to identify investors and patrons to support the initiative, including the over 2,100 chambers of commerce committed to the landmark ICC Chambers Climate Coalition.
ICC is gearing up for a critical year related to nature with the 15th meeting of the United Nations Ocean Conference and Conference of the Parties (COP 15) to the Convention on Biological Diversity (CBD) coming up. GreenUp Australia is the latest in a series of recent ICC environmental projects. ICC is a proud member of Business for Nature, a coalition of global organisations and businesses committed to reversing nature loss and restoring natural ecosystems.
At the World Economic Forum in Davos, ICC contributed to policy recommendations governments to advance policies that value nature and enforce environmental laws. In addition, ICC launched two digital platforms, I360X and SME360X, which utilise analytics and global databases to measure the environmental impacts of market goods and services.