Global governance
ICC hosts breakfast on achieving sustainability through global trade at Davos
The International Chamber of Commerce (ICC) hosted a roundtable breakfast on the margins of this year's World Economic Forum in Davos to discuss the nexus between trade and climate policies.
The 50th edition of the Forum has kicked off in Davos with a focus on the future of trade governance and raising the collective climate ambition of business.
ICC Secretary General John W.H. Denton AO joined Paul Polman, ICC Chair and CEO of Imagine, Roberto Azevedo, World Trade Organization (WTO) Director-General, and Carolyn Deere Birkbeck, Senior Researcher at the Graduate Institute's Global Governance Centre, to consider how trade policies can contribute to a more sustainable global economy.
The breakfast builds upon ICC's successful trade and climate consultation series, which was launched at the United Nations General Assembly in September 2019. These consultations examined the feasibility and effectiveness of market-based approaches to reducing greenhouse gas emissions, including carbon pricing schemes, climate waivers, border adjustment measurements, and carbon clubs.
The private sector can shape sustainable trade policies
While previous ICC trade and climate consultations examined government approaches, the breakfast encouraged participants to consider the private sector's role in shaping trade and climate policies. Most notably, Ms Deere Birkbeck emphasised the private sector's capacity to work together with national governments to advance sustainable trade policies. "Trade policy is out of touch with the dynamism of the business community on environmental sustainability," Ms Deere Birkbeck said. "Business must push for trade policy that supports a more environmentally sustainable global economy," she added.
Prior to arriving to Davos, Ms Deere Birkbeck and Mr Denton published an op-ed article, entitled, "We need better alignment between climate and trade. Here's a roadmap." The article calls upon trade and climate policymakers to break down policy silos, consider policy options carefully, and to treat climate action as an opportunity.
Multilateral institutions hold the power to set standards
Meanwhile, Mr Polman, called upon governments to utilise multilateral rule-setting bodies, like the WTO, to advance sustainable trade practices and standards globally. For Mr Polman, global trade rules can align trade and climate policies toward a more inclusive global economy. Similarly, Mr Azevedo underscored the significance of multilateral institutions, especially the WTO, in serving as venues for multilateral dialogues on environmental issues.
"There is room to improve global cooperation on fighting climate change and protecting the environment within the context of the WTO," Mr Azevedo said. "The WTO can be a platform to make environmental issues more visible," he added.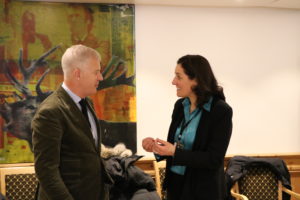 Harnessing digital technology for sustainable outputs
Participants also touched upon the use of emerging digital technologies to measure the impact of carbon emitting processes and goods. Mr Denton elaborated on ICC Clarify, a traceability tool that consumers can use to identify the origin, trade path and environmental compliance of goods on the shelf.
"New technologies have the potential to shine a light on the carbon footprint associated with trading goods. These technologies can be used by businesses of all sizes to reduce the carbon intensity of goods worldwide," said Mr Denton.
These comments foreshadowed Mr Denton's later involvement in the official launch of I360X and SME360X, two digital platforms designed to assist the private sector with measuring the environmental impacts of their operations. The products, developed by GIST Impact, a Geneva-based sustainable analytics firm, were unveiled at Davos with Mr Denton speaking at the launch event.
For ICC updates from #WEF, follow @iccwbo and @ICCSecGen on Twitter.