World Chambers Federation
ICC honours memory of Bill Stibravy, 96
It is with great sadness that ICC has learnt of the passing on 5 January of William J. Stibravy at the age of 96.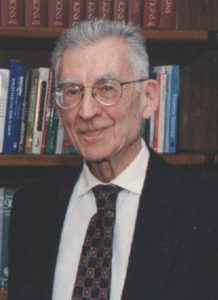 Known affectionately as "Bill" to his countless friends in the ICC family worldwide, he worked tirelessly on behalf of world business during 27 years as ICC Permanent Representative to the United Nations in New York until his retirement in 2008. A graduate of Columbia University and a US Army veteran of World War II, Mr Stibravy had a distinguished 40-year career in the US State Department – including several postings in Europe and Japan – before joining ICC.
"Bill will be very fondly remembered at ICC as both a professional and a gentleman of the utmost integrity who commanded respect from all who met him," said ICC Secretary General Jean-Guy Carrier. "His knowledge of the UN was encyclopaedic – to such an extent that he was frequently consulted by top UN officials. And the stream of consistently wise advice which he supplied to ICC's leadership and senior management over so many years was the product of a razor-sharp intellect and excellent judgement, as well as long experience in the arena of international policy-making."
A courteous, cultured, cosmopolitan citizen of the world with well-honed diplomatic skills, Mr Stibravy was the ideal person to head up ICC's work in the UN during the 1990s and early 2000s when that institution belatedly opened its eyes to see business as a partner of government, rather than an adversary, in the pursuit of global prosperity and peace – a cause to which Mr Stibravy devoted his entire life. Indeed, on behalf of ICC, Mr Stibravy played a prominent role in that transition.
And for those who had the great good fortune to know him as a friend – as many in the ICC family did – Bill Stibravy will be remembered for his kindness, his self-effacing modesty, and his unfailing good humour. He was ever ready and happy to share his knowledge and experience with others – and particularly with young people embarking on their careers. But what perhaps was most memorable to those who knew him well was his never-fading youthful spirit that stayed with him to the end. He progressed effortlessly with the times as the many decades of his life rolled by. He developed a keen interest in policy issues well before they became mainstream priorities. And he constantly dismayed younger colleagues at ICC with his mastery of the latest information technology.
"It is a consolation to know that Bill lived a very long and extraordinarily interesting life. It is nonetheless very sad that this world has lost such an exceptionally good and decent human being," said Mr Carrier.
The condolences and thoughts of the ICC global network at this time go out to Bill's wife Roma who was at his side for so long, and to their sons Robert and Richard.