Trade & investment
ICC expands its membership in Sudan
The International Chamber of Commerce (ICC) is pleased to announce the latest addition to the ICC network, the Sudanese Businessmen & Employers Federation.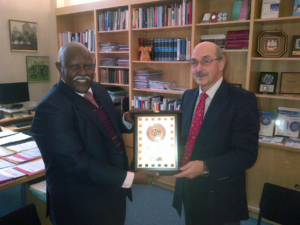 ICC Secretary General Jean-Guy Carrier yesterday met with a delegation from the Federation including Secretary General Bakri Yousif Omer.
The Sudanese Businessmen & Employers Federation
was established in 1977 to care for the interests of business in all sectors
including industry, agriculture, transport and small- and medium-sized
enterprises.
The Federation joins ICC's other members in Sudan, the
Al Jazeera Sudanese Jordanian Bank and Integrated Business Co., in ensuring
that ICC is well represented throughout the business community in Sudan.
Visit ICC membership for more information on how to become an ICC member.