Competitive markets
ICC delegation seeks opportunities in Myanmar
A high-level ICC delegation of business leaders from more than 10 countries undertook a three-day visit to Myanmar in a bid to identify opportunities that could further liberalize the economy and build long-term relationships with the Myanmar business community.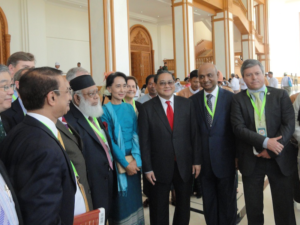 With interests spanning a range of industry sectors, such as banking, finance, textiles and energy, the delegation, which included the leaders of ICC Bangladesh, ICC Sri Lanka, ICC Israel and ICC Indonesia, met with Myanmar government and business representatives to explore ways in which trade and investment can benefit one of the poorest nations in Southeast Asia. The delegation also met informally with Aung San Suu Kyi, Nobel prize recipient and leader of the opposition, who was attending Parliament.
Looking to identify investment opportunities following the introduction of a new foreign investment law in November 2012 and in view of impending banking legislation, the delegation, led by ICC Honorary Chairman Victor K. Fung and ICC Secretary General Jean-Guy Carrier, participated in a full programme of meetings with government and business officials including the Minister of Commerce and the Minister of National Planning and Development.
The 28-strong business delegation, comprising representatives from neighbouring Myanmar countries as well as from countries further afield, including Poland, commenced the visit with an ICC-hosted welcome dinner in Yangon where Myanmar business leader Serge Pun briefed participants on the current Myanmar economy and investment climate.
Meetings took place with government officials in the country's capital, Naypyidaw on 21 January with the aim of securing an understanding of government expectations and of garnering practical information on the country's intentions as it emerges from decades of military rule and economic isolation. ICC training and information seminars at the Ministry training institute in Yangon were proposed in response to the interest in arbitration expressed by the Ministry of Commerce as an additional inducement for foreign investors in Myanmar.
The potential establishment of an ICC Myanmar was agreed to in principal at a meeting on 22 January with Win Aung, President of the Union of Myanmar Federation of Chambers of Commerce and Industry (UMFCCI) and other Myanmar business representatives at the chamber's offices in Yangon. During the meeting, UMFCCI requested ICC help as a matter of urgency to provide training on a range of ICC business tools that would go a long way to help Myanmar open its borders to trade and investment. These include arbitration and dispute resolution services, Incoterms rules and the use of ICC model contracts.
ICC Secretary General Jean-Guy Carrier said: "Our outreach to Myanmar is in keeping with the ICC Merchant of Peace spirit, dating back over 90 years, to promote peace and prosperity through international trade and investment. Following the easing of international sanctions last year, the international business community very much encourages the government of Myanmar to continue opening up the economy to the benefit of all."