Business & UN
ICC convenes business leaders to take meaningful action at SDG Action Labs
On the margins of the United Nations High Level Political Forum, the International Chamber of Commerce (ICC) launched a new workshop series for corporate sustainability leaders.
The Sustainable Development Goals (SDG) Action Labs organised by ICC bring together leading global companies to exchange ideas and strategies on how business can support the 2030 UN Agenda. Each SDG Action Lab focuses on one key issue, allowing business representatives to share their ambitious goals for SDG implementation and speak freely about implementation challenges.
The first SDG Action Labs, co-sponsored by the World Benchmarking Alliance (WBA) and Nestlé, focused on mobilising climate action at scale, securing decent work in global value chains, reducing plastic waste, and achieving net zero emissions. Business leaders from more than 300 companies and organisations convened to raise corporate ambition for adopting sustainable policies.
Andrew Wilson, ICC's Permanent Observer to the United Nations, said: "The SDG Labs provide business leaders and policymakers with a unique platform to establish a cooperative approach toward the implementation of the 2030 Agenda. The conversations and discussions shared here today will help inspire business-led initiatives across the global supply chain."
As part of the first SDG Action Lab, WBA opened with a special session on corporate accountability. During the session, WBA explained their systems transformations approach to benchmark development, which emphasises the importance of driving impact across value chains.
Gerbrand Haverkamp, Executive Director of the World Benchmarking Alliance said: "The WBA will identify and asses the world's most influential companies in terms of their impact on the SDGs…this transparency and insight in performance will recognise leaders and hold laggards to account, which can lead to real and transformative change."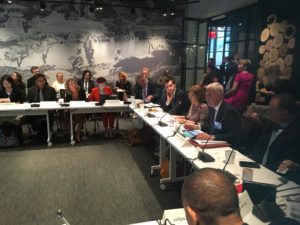 Nestlé led a session on reducing plastic waste in line with SDG 12 for responsible consumption and production, as well as SDG 14 for life below water. Nestlé became the first SDG Lab Corporate Catalyst, by sharing their journey towards reducing plastic waste with a group of representatives from a variety of industries. SDG Lab Corporate Catalysts serve to inspire other companies to align their business models with the SDGs.
Helen Medina, Senior Public Affairs Manager, Nestlé, said: "The SDG Action Labs are starting critical conversations about how businesses can make practical contributions to the implementation of the Sustainable Development Goals. In the future, business leaders and policymakers must work together to ensure that global development promotes people, planet, and prosperity for all"
The next round of the SDG Labs will take place during the United Nations General Assembly (UNGA) in September 2019. As part of the second round, business leaders will consider the high-level health and financing agendas as part of the official UN General Assembly Week programme.
For more information on the SDG Action Labs or opportunities to engage with ICC at the United Nations, contact Sabrina.klayman@iccwbo.org.