Climate change
ICC calls for the acceleration and scaling up of investment in energy efficiency
One important step in scaling-up energy efficiency investments globally is to create and increase demand through long-term enabling policies and incentives combined with related business models. It is not only the availability of finance.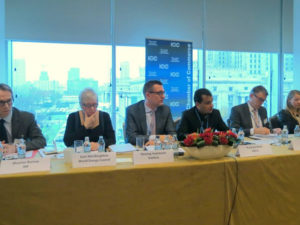 This was the conclusion of a panel of experts from private sector and international organizations during an ICC workshop which took place this week at the Sustainable Innovation Forum (SIF) in Warsaw.
Entitled The key to scaling-up energy efficiency investments, panellists agreed that without large-scale demand for energy efficiency, all other elements of the 'puzzle' – including financing, technology and skills – were less effective.
The workshop highlighted that barriers to energy efficiency investments are various. They include high upfront and transaction costs, low delivery capabilities and lack of awareness and understanding of structural problems such as the principal-agent challenge. In addition, recent research has shown companies' greatest concern is overall lack of confidence in the viability of energy-efficient investments over time.
Panellists and participants discussed a wide range of issues as well as considerations that policymakers should bear in mind when developing policy and designing market frameworks and instruments to promote investments in energy efficiency. Participating companies and organizations included Danfoss, Great Eastern Energy Corporation, Siemens and 3M, as well as Climate Policy Initiative (CPI), International Finance Corporation (IFC) and World Energy Council (WEC).
During the workshop, ICC shared business experiences and expertise to help shape the SIF agenda and outcomes, and drew attention to the imminent publication of an ICC policy statement on 'Enabling frameworks to scale up investments in energy efficiency', drafted by a group of experts on the ICC Environment and Energy Commission.
Commission Chairman Kersten-Karl Barth also spoke at the Forum, joining the plenary discussion on 'Leaders in energy transition: How can we make low carbon infrastructures more viable?'
"Climate mitigation is like investing in the future", said Mr Barth at the SIF Forum. "It will not only contribute to greenhouse gas emissions savings but will also help create jobs and generate growth. Energy efficiency is hereby one important solution we need to scale up to reach low carbon growth."
On the sidelines of SIF, Mr Barth met with United Nations Environment Programme (UNEP) Executive Director Achim Steiner, to discuss possible collaboration between ICC's Environment and Energy Commission and UNEP in the lead up to Paris 2015.
ICC was a key partner of the 2013 Forum. Now in its fourth year, the Forum took place alongside the 19th annual Conference of the parties (COP) under the United Nations Framework Convention on Climate Change (UNFCCC) process. Organized by Climate Action, under contractual partnership with UNEP, the forum ranks among the principal platforms on which business can discuss and give input into the COP negotiations.
It mobilized and connected approximately 350 high-level influencers – including ministers and senior government representatives, C-level executives from business and IGOs/NGOs, and financiers – to share ideas, technologies and solutions to catalyze innovation and generate positive actions.