ICC boosts G20 efforts to fight corruption
Speaking at the Third Annual High-Level Anti-Corruption Conference for G20 Governments and Business taking place today in Paris, Erik Belfrage, Chair of the ICC Commission on Corporate Responsibility and Anti-corruption underscored how concrete ICC tools for training and capacity building help companies – particularly small- and medium-sized enterprises (SME) – fight corruption.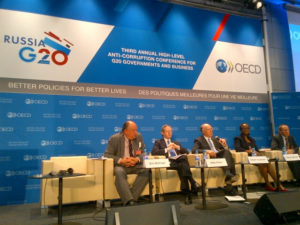 Jointly organized by the Russian Presidency of the G20 and the Organisation for Economic Co-operation and Development (OECD), with support from the UN Office on Drugs and Crime (UNODC), the conference draws on the priorities laid out in the 2013-2014 G20 Anti-Corruption Action Plan and Business 20 (B20) Recommendations to Governments.
Speaking on a panel entitled "Is there a need for SME-specific anti-corruption compliance?", Mr Belfrage, who is also Chairman of the International Council of Swedish Industry (NIR), called attention to the groundwork laid by the ICC Rules on Combating Corruption that provide a global standard for the private sector to fight corruption.
"The Rules are evidence that at ICC we are holding up the business end of the deal," said Mr Belfrage. "ICC was the first organization representing world business to issue anti-corruption rules. The first edition, launched in 1977, laid the cornerstone for ICC's pioneer role of championing business self-regulation to combat corruption."
The G20 has pledged to 'lead by example' through its Anti-Corruption Action Plan, which calls for ratification of the United Nations Convention against Corruption (UNCAC) and adoption of other laws aimed at thwarting bribery and corrupt practices. It also calls on business to strengthen corporate efforts in fighting corruption. ICC has urged G20 leaders to ratify and implement UNCAC and encourages work with non-G20 states toward its universal adoption and implementation.
Mr Belfrage also previewed ICC's forthcoming practical Ethics and Compliance Training that will provide companies with the know-how they need to implement an effective anti-corruption compliance programme.
Produced by the ICC Commission on Corporate Responsibility and Anti-Corruption, the ICC Rules and forthcoming ICC Ethics and Compliance Training are part of a suite of pragmatic ICC tools to help business drive integrity in business transactions. The commission continues to develop such tools that provide guidance on a range of related issues including gifts and hospitality, and solicitation in public procurement.
They include:
ICC Rules on Combating Corruption
ICC Fighting Corruption Handbook
RESIST (Resisting Extortion and Solicitation in International Transactions)
ICC Guide to Responsible Sourcing
ICC Whistleblowing Guidelines
ICC Guidelines on Agents, Intermediaries and Third Parties
Business Case against Corruption
Bringing together high-level government, business and civil society representatives to examine best practices for combating corruption, the Third Annual High-Level Anti-Corruption Conference for G20 Governments and Business will be followed by a meeting of members of the B20 Task Force on Improving Transparency and Anti-corruption. ICC Senior Policy Manager Viviane Schiavi will participate in the meeting in her role as leader of a work stream on business programmes that build anti-corruption capacity in the value chain.
For more information on ICC's activities on this subject please visit the ICC Commission on Corporate Responsibility and Anti-corruption