Chambers services
ICC announces new appointments to Banking Executive Committee
ICC has announced three appointments to its Banking Commission Executive Committee to provide technical direction to the leading global policy and rule-making body for the banking industry.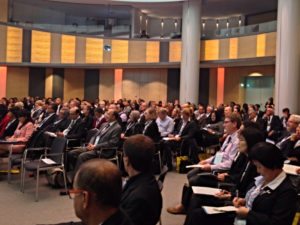 Announced last week during an ICC Banking Commission Meeting in Vienna, the evolution has taken place as part of planned growth of the leadership structure, which was initiated less than one year ago. Since 2012, the Banking Commission has been seeking new members, with the required expertise, to ensure that new areas of expertise are fully covered.
The new appointments are as follows:
– Neil Chantry, Global Head of Policy and Compliance, Global Trade and Receivables Finance at HSBC is appointed as new Head of the Executive Committee.
– Mathieu Le Brigand, Global Head of Supply Chain Management at BNP Paribas joined the Executive Committee and will supervise the development of new projects on supply chain financing and open account.
– Andrea Hauptmann, Head of Guarantees at Raiffeisen Bank International also joined the Executive Committee. In addition, Andrea Hauptmann will retain her position as Head of the ICC Banking Commissions Guarantees Task Force.
The ICC Banking Commission Executive Committee comprises nine officers, each supervising a specific line of service. Changes at the top of the commission triggered an opportunity to add new officers in order to align the commission's resources to new mandates and meet the aspirations of the renewed membership.
Kah Chye Tan, Chair of the ICC Banking Commission said: "Shifts in the rapidly changing economic environment and banking industry have created a growing market for new rule-writing, policy and standardization mandates. The ICC Banking Commission has a key role to play to evolve in parallel with market needs and to mobilize the right experts to retain our position as the most authoritative voice in the field of trade finance."
This structural growth is in line with the commission's objective to remain a relevant and recognized authority within the ever-evolving trade finance industry. In July 2013, the ICC Banking Commission appointed three new Technical Advisors to consolidate its advisory function for newly-established industry standards and put itself in a position to develop ICC's standard-setting initiatives ever further.